For many people, knowing what to consider when buying a hot tub is an incredibly special occasion, so we know how important it is to choose the right option! The research phase of this process is the most significant in ensuring that the right decision is made not only in terms of your budget, but also in terms of the experience, longevity and health benefits that you are able to receive. 
So How Can We Help You To Make The Right Choice?
We will use our years of experience and our personal love for hot tubs to give you different ideas and considerations to think about in order to guide you in the right direction on your journey in purchasing the perfect hot tub.
How Much Does It Cost?
Although money isn't everything, we understand that everybody has different budgets so there isn't an exact price that we would recommend paying for a hot tub, it depends completely on what features and spa benefits matter the most to you. For example, a person who prioritises having a swimlane in their spa might have to pay a different amount of money to a couple who would like a more secluded hot tub for just the two of them to relax in after a hard day's work.
Something that we have noticed is that buying the most expensive hot tub that you can afford doesn't necessarily guarantee that you are choosing the best option based on your needs and expectations. Our advice would be to note down what you feel are the most important features and benefits of a hot tub and use this to inform your decisions.
If you find a hot tub that you love but don't have the money to buy it outright, there is no need to worry because we offer a 0% finance option on most of our hot tubs and swim spas! So you can pay monthly without worrying about interest.
How Many People Will Typically Use It?
Size isn't all that matters, but it should be a key factor in which hot tub you buy. Say if you just wanted a hot tub to enjoy with your family or close friends, it might actually make the experience worse for you if the hot tub is too large because you may lose the exclusive, special feel of your hot tub. Whereas, if you plan to have great hot tub parties, it could lessen the experience for you and your guests if the hot tub is too small to accommodate everybody comfortably.  
In regards to cost, the capacity and size of hot tub usually have a significant influence on the price. However, it is possible to find large yet luxurious hot tubs on a budget, and small, exclusive hot tubs at the absolute top of the range for a little bit more money.
You have probably imagined where you are going to put your hot tub once you've bought it, but have you thought about the exact specifications of this location, and what natural elements the hot tub might be subjected to?
If you are planning on having your hot tub outside, imagine which spot it will sit in your garden and ask yourself what direction it will face, how you will be able to fit it in whilst maintaining the functionality of the area around it, and whether your hot tub will be overlooked. If you plan on lounging in the sun on a Sunday afternoon, will the sun be visible on a clear day or will it be obstructed by buildings?
If you are planning on having your hot tub inside, you need to ask yourself what the biggest size you can get is without losing functionality of the room, you also need to consider if there is a location you can install the hot tub which takes advantage of natural light, it is possible to get sophisticated lighting options with selected hot tubs if you believe that lighting could be an issue, or if you just want to add a cool LED feature to your hot tub which is also helpful for nighttime lounging. 
If you are buying your hot tub with 1 Stop Spas, our expert team would be able to offer their professional advice to make sure the setting for your hot tub helps to give you the very best experience possible.
Try Before You Buy
Although we can't take the hot tub to your garden before you buy it, we would recommend that you give your hot tub a "test drive" before making the purchase. At 1 Stop Spas we offer a free private wet test where you and your potential hot tub guests can sit back, relax and see if the hot tub you are in is right for you. We'll even give you a glass of champagne for the occasion! This is the only way to be 100% sure that the hot tub is for you, and if it isn't then you do not have to commit to it. You can book a free wet test by clicking here.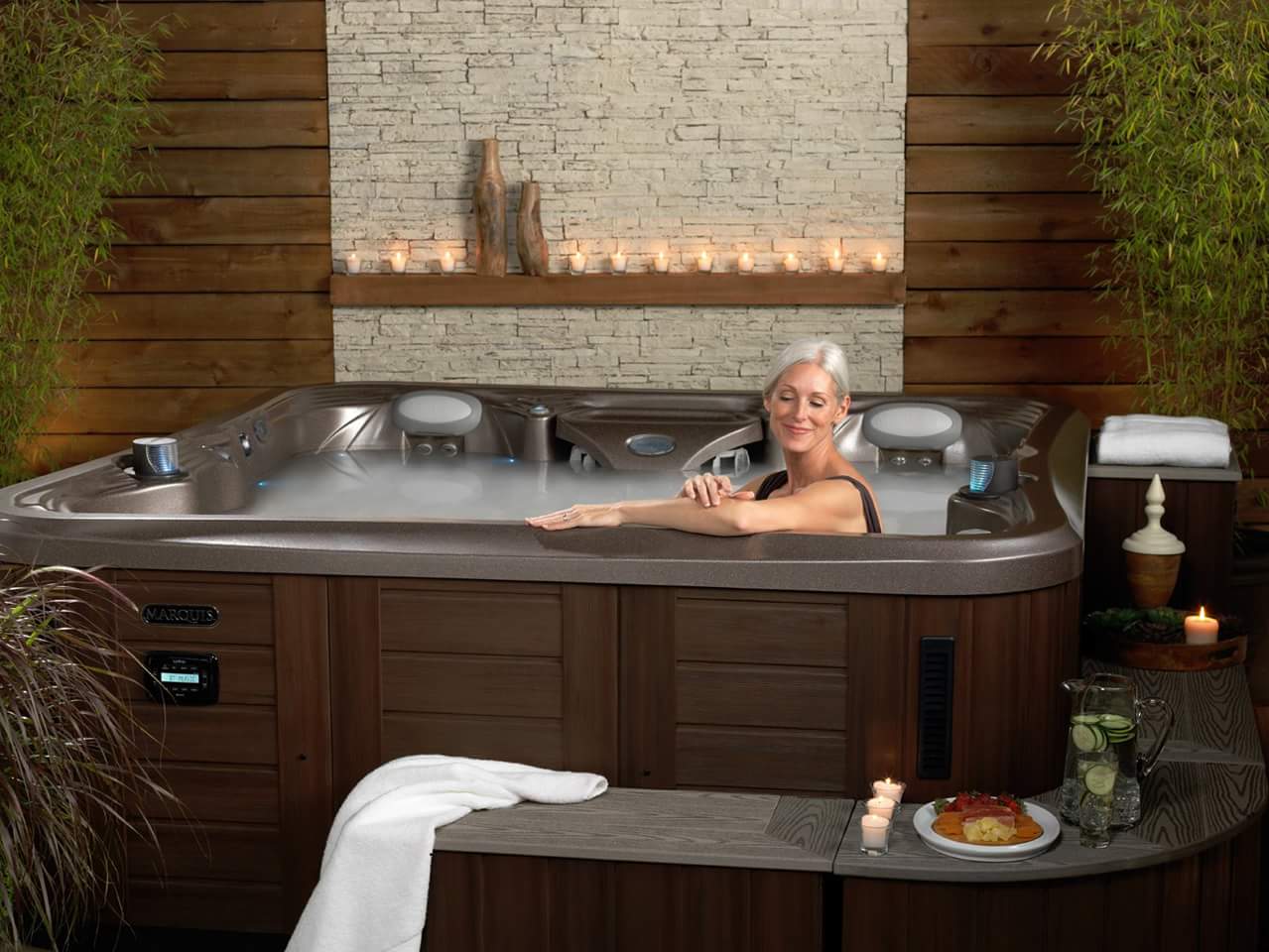 Where Are You Buying Your Hot Tub From?
At first, it might seem cheaper and easier to buy from an online reseller or a friend of a friend on social media, but you can't be sure of the functionality and longevity of the spa. If there are hidden problems that can't be seen by the naked eye, you could have to pay a lot of money to get these fixed, especially if the warranty either doesn't exist or is voided by moving the hot tub from one place to another without professional help. Therefore, we always recommend buying a hot tub through a licensed supplier of hot tubs. When buying with a professional company such as 1 Stop Spas, you can get guidance from our team of experts for just about anything hot tub related. You will also receive a manufacturer's warranty on most new hot tubs which covers you against any unexpected problems or faults, but what if you don't want to buy a brand-new hot tub? That doesn't matter, we offer a warranty on the majority of our reconditioned hot tubs as well! 
Who Are The Best Manufacturers?
We are lucky enough to work with some of the biggest and best hot tub manufacturers in the world, but we would not be able to highlight one as the absolute best, as with most other aspects of this research process, it completely depends on your specific requirements. Instead of focusing on a specific manufacturer, we would suggest you shop by hot tub type and filter in other aspects before thinking about manufacturers, and if you see a few different brands that suit your needs other factors can be added, you can rest assured that all of the brands we stock are of the absolute highest quality. Our friendly team can also offer advice on manufacturers if you have any technical or general questions about a certain brand.
I Want a Hot
Tub For Hydrotherapy Pain Relief And Massage Benefits
Hot tubs are well-known for their hydrotherapy benefits so we don't blame you for wanting one for this purpose.  The pain relief takes place due to a mixture of the heat which increases your blood circulation and specialised jets which massage and soothe away the tension in your body. Look out for the amount of jets a hot tub has or search for hydrotherapy on our site, which will show a range of hot tubs which are perfect for this purpose! Feel free to speak to a member of our team either in-store or on the phone to find out exactly which hydrotherapy hot tub is right for you.
Do You Want All The Bells And Whistles?
You should consider whether you will want any accessories or special features on your hot tub. Different manufacturers and models have various compatibilities so you could be left disappointed if you want a built-in Bluetooth music system as part of your hot tub but have purchased one where this doesn't come as an extra. 
Some ideas that we think might interest you are LED lights, Wi-Fi adaptability, foam fillers, heat exchangers, exercise kits, increased power jets, sanitation systems and there are many more to discover! Ask one of our experts if you have any special ideas in mind and we can help you to find the perfect option.
Some extras are manufacturer-specific, such as the X-Series Collar (American Whirlpool) which uses strategically placed cluster jets that provide a deep tissue neck massage to targeted pressure points, relieving tension.
We also offer accessories such as pillows, aquatic exercise bikes & treadmills, games, accessible handrails, tables, waterproof phone accessories and the absolutely essential rubber ducks! Visit here to see our full collection of hot tub accessories.
Our Top Tips
First and foremost, make sure that you have measured out an area and have factored in any restrictions or obstructions that you could face, the last thing that you want is to try to install a hot tub which is too large for your location

Set a price that you would like to pay, this can then be a basis for what features and specifications you can seriously consider within budget

Think about the main reason why you want a hot tub and what your biggest desires are, whether this is related to size and experience, optional extras or hydrotherapy benefits. Use this to shape your hot tub search

Buy your hot tub from a respectable, licensed supplier. It's not worth the risk buying from Gordon who you just found on social media

Make use of our

free wet tests

. Come into our showroom and experience the hot tub that you are thinking about buying. If you don't like it, there is no pressure for you to make a purchase.