The Definitive Hot Tub Buyers Guide: Everything You Need To Know In 2023
Are you considering purchasing a Hot Tub for your home? A Hot Tub can be a fantastic addition to your outdoor space, providing an enjoyable, relaxing, and therapeutic experience for you and your family. However, with so many options available, it can be daunting, so we've put together this extensive Hot Tub Buyers Guide. We'll walk you through all the essential factors to consider, everything from choosing the right size and features, to understanding the installation process and maintenance requirements.
Our advice is built upon over 15 years in the Hot Tub industry, and not just in sales. We began as a Hot Tub servicing and repairs company so we know what gives an amazing Hot Tub experience, and more importantly what causes expensive problems.
Before diving into the amazing world of Hot Tubs, it's essential to spend some time doing thorough research. By gathering the necessary information, you can make an informed decision and ensure that the Hot Tub you choose is not only within your budget, but also meets your specific requirements and won't fail after only a few years.
Start by exploring reputable local retailers who specialise in Hot Tubs rather than risking unreliable online only companies. A good Hot Tub retailer will offer "Wet Tests" allowing you to try out the Hot Tub for at least 15-20 minutes before purchase. After all, would you buy a car without first taking it for a test drive? Two completely different Hot Tubs can look very similar in pictures. To really see the difference and the quality you need to see them in person. A physical store will also provide high-quality customer service to ensure a smooth buying experience, as well as excellent aftercare support for peace of mind.
Look for retailers that are members of BISHTA the only UK Hot Tub trade association and have to abide by a strict Code Of Ethics, and if they are approved by WhatSpa, the UKs leading independent Hot Tub magazine.
Part 1: Choosing Your Hot Tub
Exploring The Different Types Of Hot Tubs
Hot Tubs come in lots of shapes, sizes, and specifications, each with their own unique features and benefits. Understanding the different types can help you narrow down your options so let's explore some of the most popular types of Hot Tubs available
Hard Shell Hot Tubs are the most traditional and widely recognised type of Hot Tub. They are known for their durability, innovative features, and luxurious designs. These Hot Tubs have a solid construction, internal heating system, and often have a wide range of Massage Jets. Hard shell Hot Tubs can offer excellent insulation, a large amount of seating configurations, and additional innovative features. They are the most popular choice for those seeking an economical, high-quality, long-lasting Spa.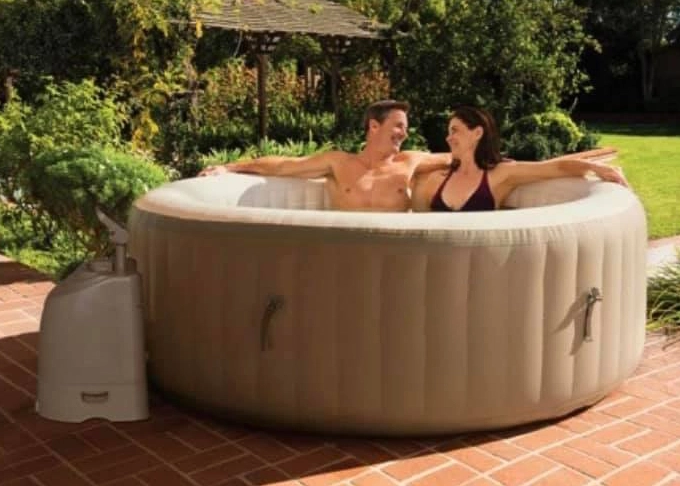 Inflatable Hot Tubs are a cheaper and portable alternative to Hard Shell Hot Tubs. These Spas are made from PVC or vinyl and can be inflated and deflated as needed. They are lightweight and can be set up on any level surface. Inflatable Hot Tubs not only have very few features and Jets, they don't have any insulation, so while the initial cost to buy is considerably less, they are extremely expensive to heat and run.
For those seeking a more rustic experience, Wood Fired Hot Tubs are often seen as a good alternative. These Spas are heated using a wood burning stove or heater, and are typically made from soft woods such as cedar or redwood. They lack the features that other types of Hot Tub have including those at entry level such as jets. Even with regular monitoring of the fire it can be very difficult to regulate the temperature.
Not suitable for business use.
From years of experience in Hot Tub servicing and repairs, our advice is to avoid cheap Far Eastern made Hot Tubs. While they are often attractively priced, they don't last very long, are very unreliable, can be hard to get parts for, and usually have poor insulation (or not at all which makes them expensive to run). The leading brands of Hot Tubs are all American built.
Choosing the Right Hot Tub
When selecting a Hot Tub, several factors need to be thought about. Consider the following key elements to help you find the Hot Tub that best suits your needs: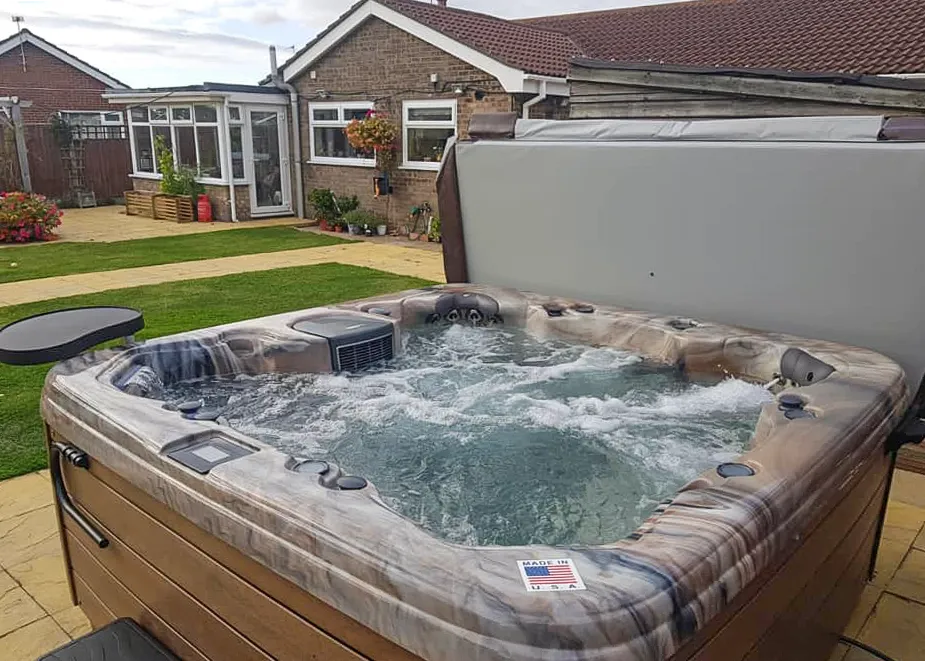 The size of the Hot Tub is arguably the most important consideration, as it determines if it will not only fit in your outdoor area, but also how many people can comfortably use it at the same time. Hot Tubs come in various sizes, ranging from compact two-person models to larger Spas that can accommodate more than eight people. Think about the number of people who might use the Hot Tub at the same time, and as a high-quality Hot Tub can last over twenty years, think about how many people might use it in the future.
Choose a size that provides enough seating for everyone but remember, the number of seats doesn't always mean the Spa can comfortably accommodate that number of people. Ensure that the Hot Tub provides enough space for users to sit comfortably and stretch their legs. If 8 people were in a small Hot Tub with 8 seats, their legs could be touching and their feet on top of each other's, so always pay attention to how much room there is especially in the centre where bathers' feet go. Consider the depth of the seating area and the overall ergonomics of the Hot Tub.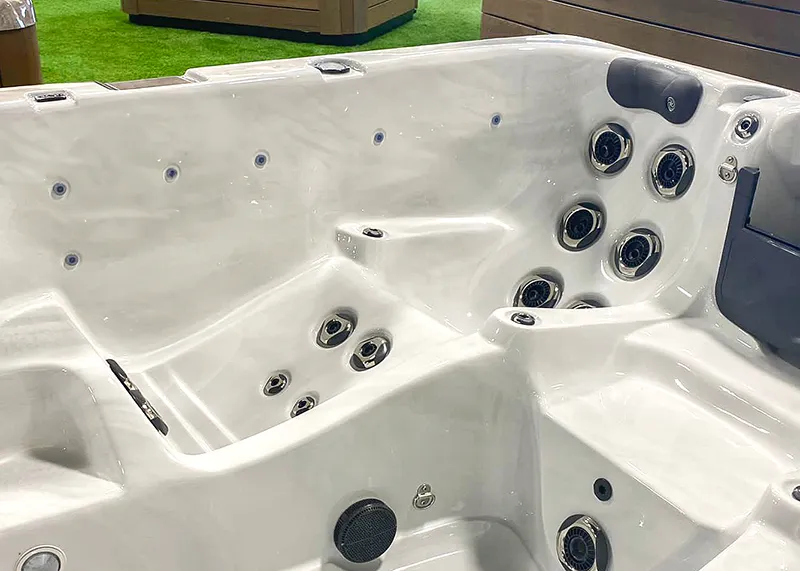 To have or not to have? This is a common question and a bit like Marmite, people either love them or hate them, it depends very much on the individual.
For some people they give the ultimate Spa relaxation experience. For others they are uncomfortable and a waste of Hot Tub space. This is why Wet Tests are so important, so you bathe in the Hot Tub before buying and can see if a lounger is right for you. Remember, loungers can take up a large percentage of the space in a Hot Tub, which is wasted space if the lounger isn't used.
Cheap Vs High Quality Hot Tubs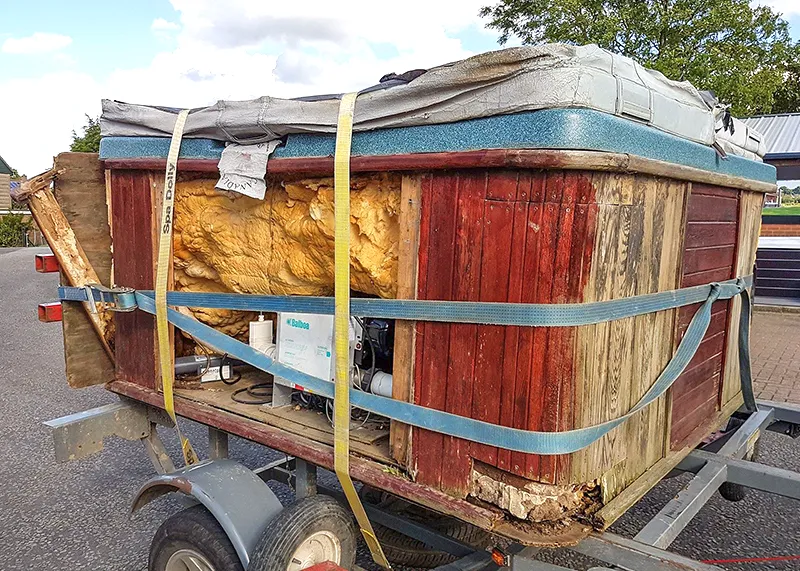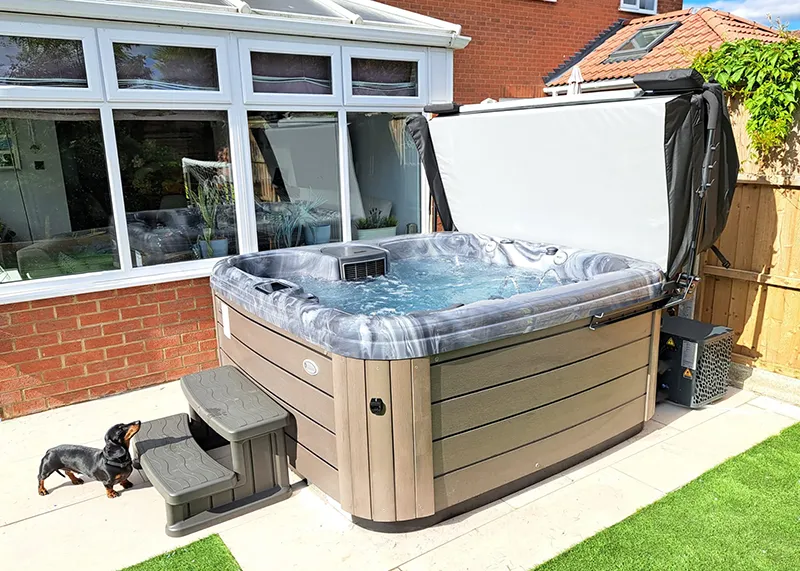 When you start shopping around for your Hot Tub you will probably see a wide variation in the pricing. Sometimes a near identical looking Hot Tub can cost as low as £3000 right up to £20,000 or more. So what is the difference?
A cheap Hot Tub will be cheap for a reason. In this guide we'll go through what to look for.
A cheap hot tub isn't usually cheap for long. A high-quality hot tub will last up to 20 years or more, and while parts will need replacing in that time, generally not very often and not as expensive. A cheap Hot Tub on the other hand might last three or if you're lucky five years, and in this time need a lot of money spent on repairs.
If a £10,000 Hot Tub lasts 20 years, it works out at less than £42 a month for buying the Hot Tub! 
If a cheap £3,000 lasts 3 years, it works out at over £93 per month to buy the Spa.
This is before you even look at running costs or maintenance and repairs!
Hot tubs offer a wide range of features to enhance your overall experience. When researching different models, pay attention to the following features that can make a significant difference in your Hot Tub enjoyment.
Massage Jets are the primary feature that contribute to the therapeutic benefits of a Hot Tub. These Jets can provide targeted hydrotherapy to specific areas of your body, helping to relax muscles, alleviate tension, and promote better circulation. When evaluating hot tub models, think about the following factors related to Massage Jets: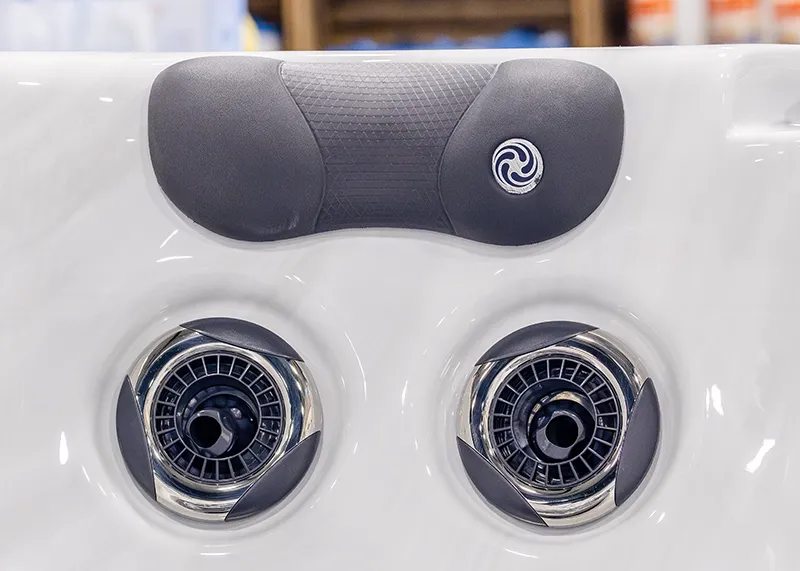 Number of Jets
The number of Massage Jets can vary greatly between different Hot Tub models, and more Jets aren't usually better. What is important is the placement and the flow of the Jets. Lots of low flow Jets won't give a very good massage, whereas a lower number of Jets but with good flow and strategically placed to target the right muscles, will give a much better massage. Imagine a pressure washer on your back with a smaller nozzle and high pressure hitting you in the spine – not very relaxing!
Adjustability
Some Massage Jets will allow you to adjust the intensity and direction of the Jets. This will enable you to fine-tune the massage to your personal liking. This is particularly important for bathers who suffer from chronic pain, Arthritis or Fibromyalgia.
Types of Jet
Massage Jets aren't all created equal. Different types of Jet give different massage sensations. Some jets will provide a gentler massage while others will be more vigorous and targeted.
An efficient Filtration System is essential for maintaining clean and hygienic water in your Hot Tub. It ensures that impurities, such as dirt, debris, and bacteria, are effectively removed and your water kept clean, fresh, and safe for use. Think about the following aspects when evaluating the Filtration System of a Hot Tub: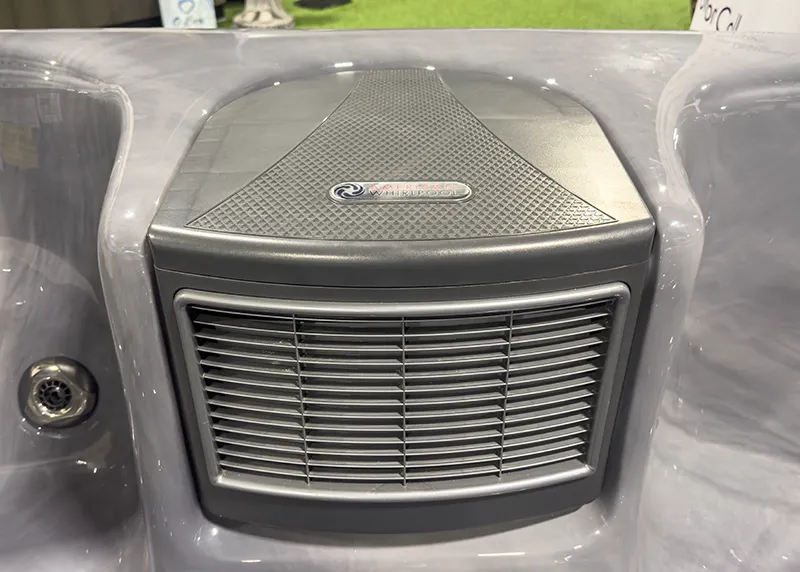 Ease of maintenance
Look at how easy it is to access the filter cartridge so when it comes to cleaning or replacing the Filter, it can be done so easily. A Filter system been designed to be user friendly will make it much more convenient and less of a chore to do basic maintenance.
Filtration capacity
Find out how quickly the water is filtered and cleaned. What is the turnover of water is through the system? The better performing the Filtration system is, the better condition the water will be kept and will be clear of impurities for longer.
Types of filtration and additional features
More premium features of Filtration systems include ozone and OPC. These systems work conjunction of your Water Treatments, making your Hot Tub less reliant on chemicals which in turn, lowers the running cost of your Hot Tub.
Lighting and Audio Systems
To create a captivating atmosphere and enhance your Spa experience, consider Hot Tubs that have built-in lighting and audio systems. These features can transform your Hot Tub sessions into a truly immersive and enjoyable experience. Here's what to look for: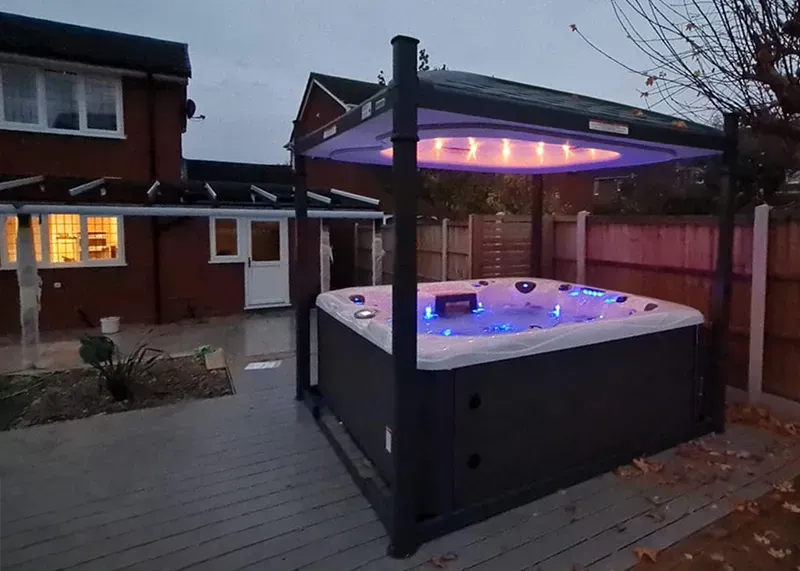 LED lighting
Some hot tubs have LED lighting systems that allow you to customise the colour and intensity of the lights. Having this feature allows you to create an ambient and soothing environment for relaxation or a livelier mood for having fun.
Audio systems
Integrated audio systems or feature some Hot Tubs that allows the user to connect an external device to the Hot Tubs built-in speaker system through Bluetooth connectivity. With this you can listen to your choice of music to enhance the mood of your Hot Tub experience.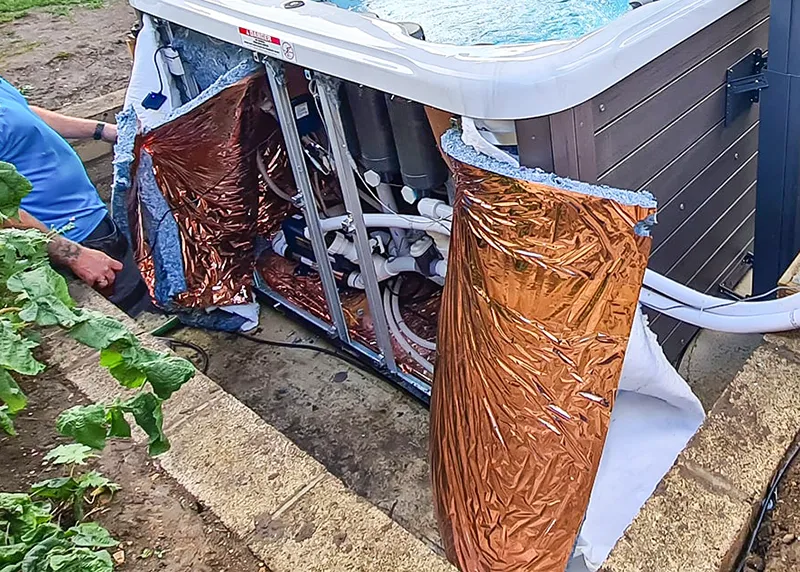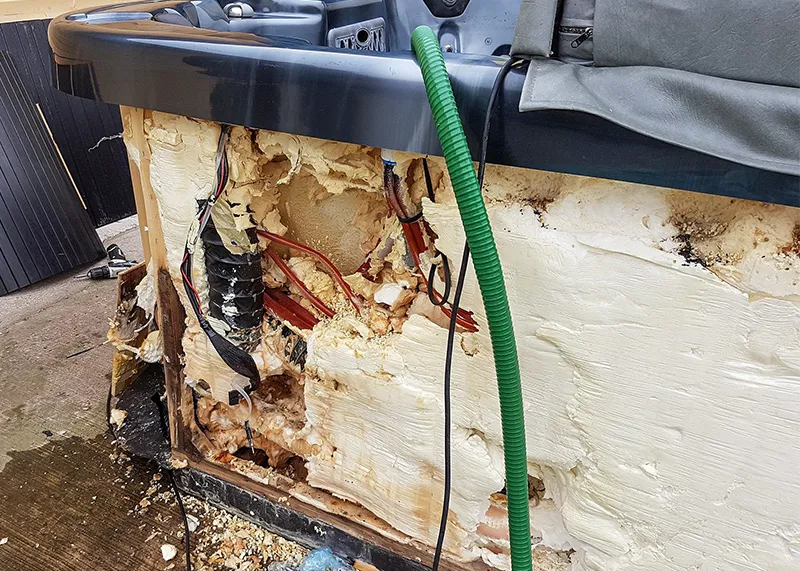 Insulation is possibly the biggest factor that determines the running costs of your Hot Tub. Without effective installation the Hot Tub will use drastically more electric to keep it warm, which of course, makes it so much more expensive to run. Different manufacturers will make different claims regarding insulation, but we make our opinions based on over 15 years doing servicing and repair work on any Hot Tub, not just the ones we sell. In fact, the Hot Tub brands that we sell are chosen based on what we see every day in the field, what's good and what isn't.
It's not uncommon for cheap Spas to have almost no insulation. We've even come across Spa that have no Insulation. Hot tubs like these will have huge running costs.
Full foam insulation is a common way to insulate Hot Tubs, and while it's typically effective at retaining heat, it is the most problematic and costly when it comes to repairs. Full foam insulation often hides poor construction, covers up a thin shell, and makes it extremely difficult to quickly find leaks or do any repairs. To do any work on a Hot Tub with Full Foam Insulation it requires pulling out all the insulation, which is time consuming and awkward, and then requires re-foaming again afterwards. This leads to much higher labour costs for any work on the Spa.
The best insulation type for a Hot Tub is removable and uses multilayer Heatlock technology. This type of insulation not only keeps the cold out, but it also reflects the heat generated by the internal components of the Hot Tub back into the water, therefore recycling heat. With this insulation type if any work of routine maintenance needs doing on the Spa it's easily removed and put back again afterwards, making repairs and maintenance much quicker and cheaper while still being the most energy efficient.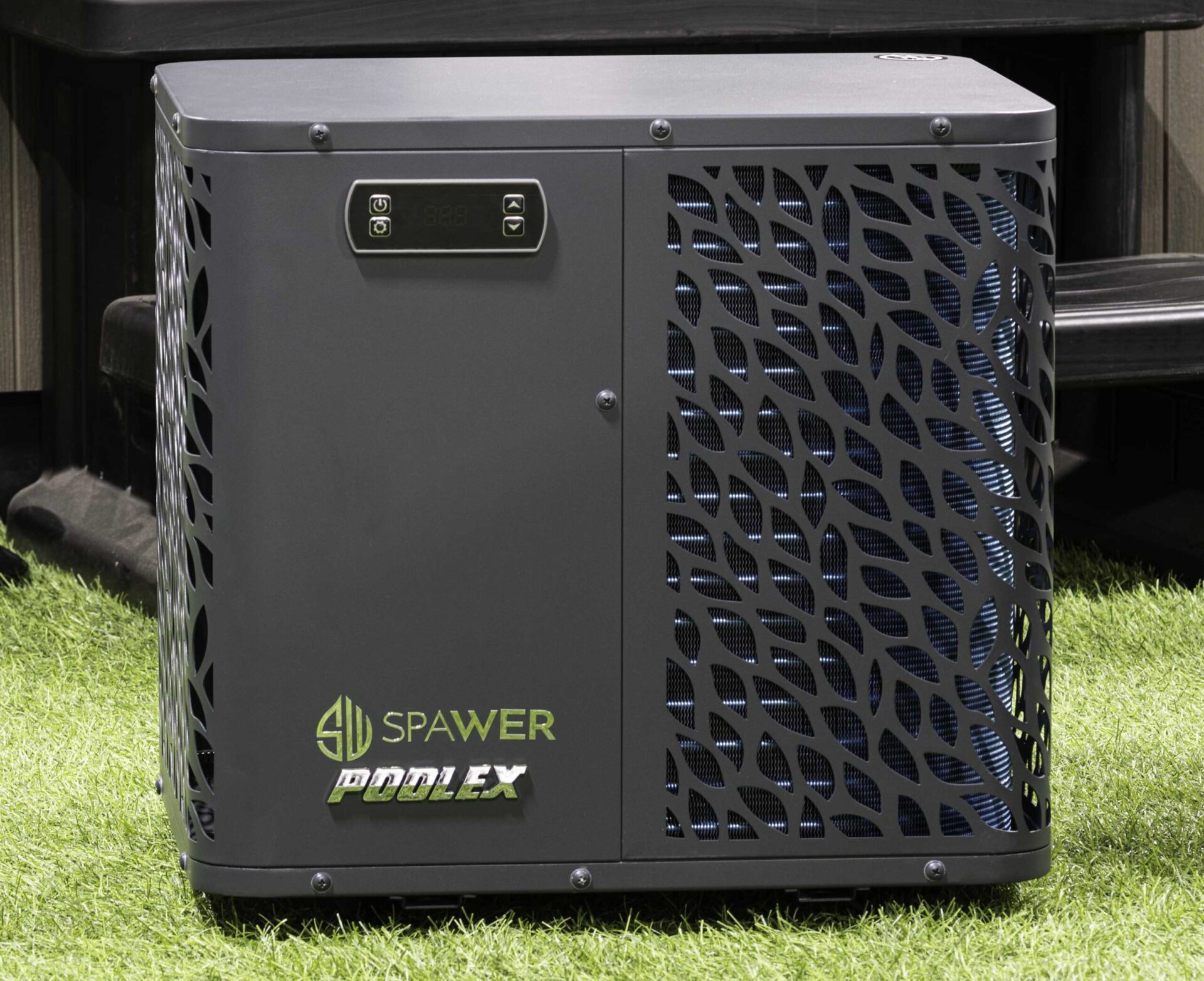 Hot Tub Heat Pumps are becoming a popular way to reduce the running costs of your Hot Tub which is why many new Hot Tubs come with these included now. A high-quality Heat Pump such as the SpaWer range can cut your running costs by up to 80% which is the reason they are so popular.
When looking at potential Hot Tubs check if a Heat Pump comes with it, and if it doesn't check to make sure one can be installed without affecting the warranty to avoid any problems if you choose to retrofit one at a later date.
There are Hot Tubs like those from Tuff Spas which have built-in lids, but the majority have a lid that is completely separate to the Tub. Check what top comes with the Hot Tub as these can vary greatly in quality and the level of insallation which can make a huge difference in running costs. Also check how easy they are to remove and if a Cover Lifter is available to make taking it on and off easier.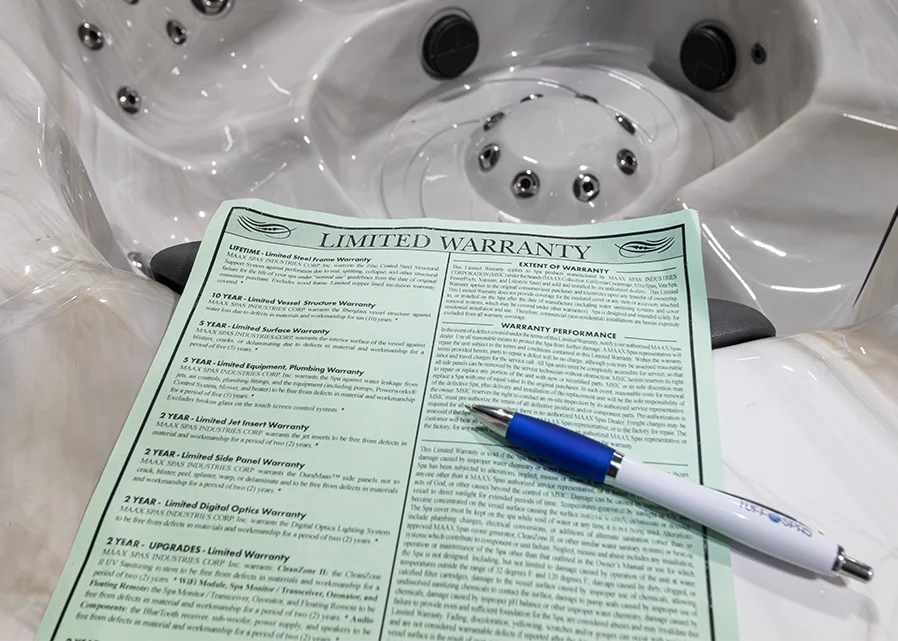 While it isn't one of the more exciting questions to ask when buying a Hot Tub, finding out about the warranty is a very important one. When even a cheap Spa costs thousands of pounds, it's a valuable investment and you need to know do you investment is protected.
A good quality Hot Tub will last over 20 years and come with a long warranty, often including a lifetime warranty for some parts.
It's also important to make sure the retailers you purchase your Hot Tub from have an Aftercare and Repairs department with qualified technicians so that if any warranty work or any other repairs need carrying out, they can be done correctly and promptly.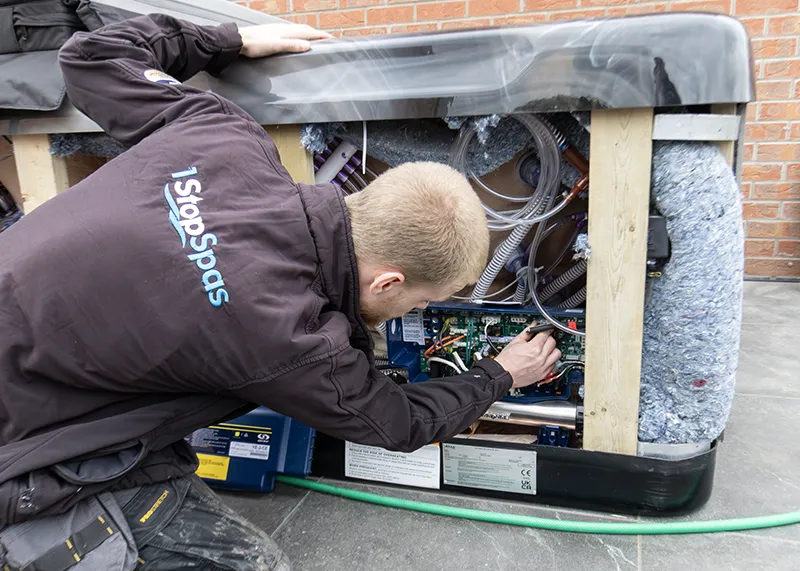 Ask about part support for the Spa. At some point in time even a Hot Tub from a leading brand is likely need a part replacing even if its decades later. Our service technicians regularly go out to repair cheap Hot Tubs that weren't purchased from us and even though they are sometimes only a few years old, often spare parts aren't available. Sometimes parts from other Spas will fit, but not always. This is when a Hot Tub that seemed like a good cheap buy becomes very expensive.
When you're narrowing down your options to find the perfect Hot Tub, the price is probably going to be one to the key deciders.
When you consider how long quality Hot Tub will last, they are very reasonably priced, however there is still a capital investment at the beginning and therefore it's important to make sure look at all your options if you're not going to pay the full amount upfront.
Many Hot Tub retailers offer various financing options which often include low APR deals and Buy now pay later. Different Spas and different retailers usually have different options which can vary in length and deposit. When you visit your local store enquire about the options that they offer.
Part 2: Delivery & Installation
Installation and Delivery Considerations
Before completing your Hot Tub purchase, it's essential to understand the installation and delivery requirements. Proper installation ensures that your Spa functions optimally and safely. Consider the following factors when preparing for installation:
Where to put your Hot Tub
When you're thinking about where to put your Hot Tub, you're probably thinking first of all where it will look good, and then, if it will be convenient in terms of getting changed and distance from the house. While these are very important and probably have the most impact on how you get the most from the Tub, here are some additional considerations to think about to avoid problems later.
Before considering where to put your Hot Tub, it's paramount that you make sure there is access for the installation. Think about how the Spa can be moved into position. If the Hot Tub is to go in the back garden, can it be moved there freely and does anything need to be moved such as fence panels? If access is restricted to the back garden a crane may be needed. This is often how Hot Tubs are installed in Terrace houses where the garden can be hard to reach.
This is the reason why site surveys are so important. If you have any questions about installation access a reputable Hot tub Retailer will be happy to discuss them with you.
Make sure that the area where are your Hot Tub will be installed is level and can support the weight of the Hot Tub. Popular surfaces are concrete slabs or decking. If you decide to put your Spa on decking, make sure it can support the weight of the Hot Tub and if you're unsure, ask with your builder.  It's important to check the weight when the Hot Tub is filled with water rather than just the empty weight. For reference, 1 litre of water weighs 1 kg.
Make sure you have enough space around the outside of the Hot Tub for not only access to bathe, but also for maintenance. If you're having an Air Source Heat Pump installed on the Hot Tub or plan to later, make sure there is enough space around it to work effectively.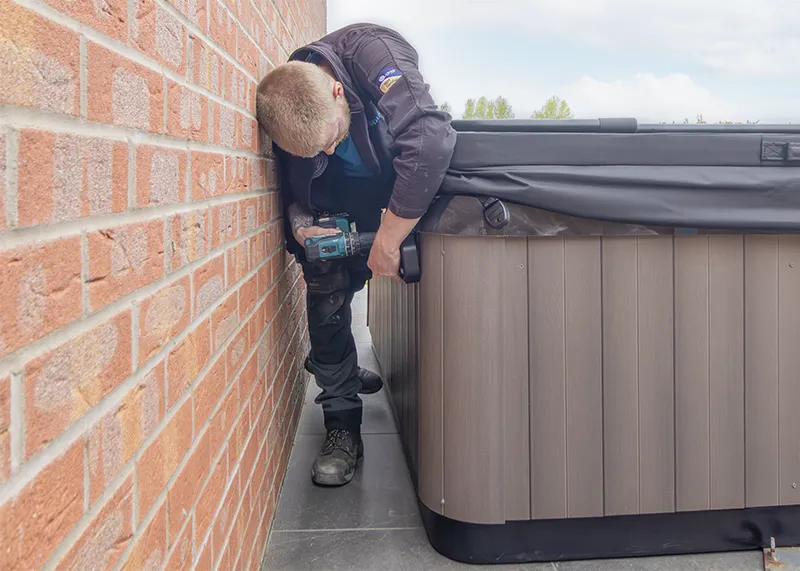 Your Hot Tub will require an electrical connection so make sure your Spa is installed in an area where there is either electrics, or a suitable place to have the electrics installed.
It is imperative that you don't attempt to install Hot Tub electrics yourself unless you're a qualified electrician. An installation by someone who isn't electrically qualified is not only extremely dangerous, but it also breaches all safety regulations.
A good Spa retailer and installer will have the qualifications and experience to this for you, however, you will need to make sure that there are suitable electrics in close proximity to where the Hot Tub will go. For most customers this requires electrical work before the installation which is usually straightforward and inexpensive. It's good practice to discuss Hot Tub electrics with a qualified electrician in good time before the installation.
Some budget Hot Tubs only require a standard 13 Amp outdoor socket to power them. These are referred to as Plug and Play Hot Tubs. The average twin pump 5-6 seat Hot Tub will require a 32 Amp dedicated outdoor supply including isolation switch and RCD protection. This need to be installed by a qualified electrician prior to the spa being installed. Larger more powerful spas may need up to a 40 amp supply. Swimspas have the same requirements but generally have more pumps and require a minimum of a 32 amp supply, often 40-60 amp.
There are no plumbing requirements for a Hot Tub but when you do your water changes, you will need somewhere to drain the water.
Most Hot Tubs have drains at the base and have taps that you're able to connect a hose to which makes them easy to drain. Other options are small submersible pumps which have the benefit of being much faster at emptying the Spa.
Think about how you're going to drain it and where to when choosing a location.
Delivery & Installation Options
Another part of your Hot Tub buying journey that isn't particularly exciting but highly important is the delivery. For many products you may purchase it's just a case of looking at the timescale, the price and seeing what is best for you. Due to the nature of a Hot Tub, there are other things to consider so you don't end up with a hot tub that you can't use or worse, is dangerous to use.
The two most common delivery types are:
Full-service delivery & installation
With a full-service delivery & installation, all aspects of the delivery and installation will be done by the retailer. If you purchase from a reputable hot tub seller, they will have fully qualified technicians who experienced in Hot Tub installation will ensure everything is done correctly and safely.
This is typical option when purchasing from online retailers and isn't recommended. With a curbside delivery the hot tub will be dropped off outside your home and usually not even put in the garden. As the name suggests, it's delivered to the curb outside your house. Moving it and the installation is left to you. While this is usually cheaper, if you're not qualified in electrical installations or experienced in fitting hot tubs, there will be considerable additional costs.
Part 3 - A Typical Buyer's Journey
You might be wondering what a typical Hot Tub buyer's journey is like. Well for one of our customers it usually goes something like this.
The customer visits our store and one of our representatives discusses the customers' requirements, shows them various Hot Tubs based on their requirements, demonstrates the capabilities and features of each Spa, and helps them narrow down the options. Like all good Hot Tub sellers, we offer Wet Tests and have changing rooms so you can try before you buy. If you want a Wet Test all you need to do is bring a swimming costume. Once all the customers questions have been answered and they are happy that you have found the right Hot Tub, they then either move onto Stage two or leave to think it over.
The customer has decided on their perfect Hot Tub and wants to proceed to purchase, we then discuss payment options.
If the customer is paying for the Hot Tub out right, a small deposit is taken. The size of the deposit can vary between retailers, as can the cool off period. One-stop spas have a 14-day cooling off period where our customers can get a full refund if they change their mind. The rest of the payment is to be made 14 days before the installation.
If the customer decides to use Finance, it is applied for at this point. The Finance we offer is processed immediately and approved or declined right there and then.  Other Hot Tub retailers' finance may differ.
Once the deposit has been paid or the Finance approved, we arrange a site survey. A site survey involves a qualified member of our team visiting the site that the Hot Tub will be installed at and checking the location is suitable, what the access is like, and anything else that may affect the installation. The date of installation is also booked.
Once the Site survey has been completed and the final payment made (if not using Finance) The next stage is the installation. On the prearranged date our team of CHTT & BISHTA qualified Hot Tub technicians will deliver the Hot Tub to your site and install it. They will then thoroughly check everything is working correctly before demonstrating how to use its features and answering any final questions you may have.
Enjoy your amazing new Hot Tub!
Purchasing a Hot Tub is an exciting investment that can provide years of relaxation and enjoyment. By following this comprehensive Hot Tub buyers guide, you are equipped with the necessary knowledge to make an informed decision. Consider factors such as size, seating capacity, features, installation requirements, and maintenance when selecting the perfect Spa for your home. Remember to prioritise reputable retailers and explore various financing options if needed. With proper research and consideration, you'll soon be unwinding in your very own Hot Tub.