MAKING THE BEST POOL AND SNOOKER TABLES
Welcome to the world of Predator, home to international billiards champions, league leaders and enthusiasts, all of whom trust their games to Predator.
Since 1994 Predator have led the cue sports industry through innovation and modernising the look, feel, and technology of the table.
Predator engineer the best Pool and Snooker tables on the market and develop tables to give players and spectators the ultimate playing experience.
If you are wondering which table is the best, you are in the right place. Predator offers performance Pool and Snooker tables that deliver the ULTIMATE PLAYING EXPERIENCE, whether you are a recreational, league or professional player. Our Pool and Snooker tables feature the most consistent, solid, and ergonomic play giving players the confidence to play their best game.

High carbon content steel to increase strength, stability and for a solid feel
Innovative 28-point multi-touch leveling system for the most accurate table calibration resulting in truer rolls
Hard bonded K55 Pro Speed Cushions for the most consistent response
Predator Arcadia Reserve worsted pool table cloth for exciting high speed action
Ultra black matte Italian Laminati for an ultra-smooth, fingerprint resistant, and reduced glare
Optimal shaped pockets fitted perfectly flush for consistent ball entry with a cool silver rim for visible targeting
Professional pocket cut: 4 1/4 inch corner pocket width and 5 inch side pocket width for accurate play
Each pocket in the billiard table is fitted with a dampening foam for noise reduction and to prevent ball rebound
3-piece 25mm pure Brazilian high quality slate for precision roll makes this the best slate pool table on the market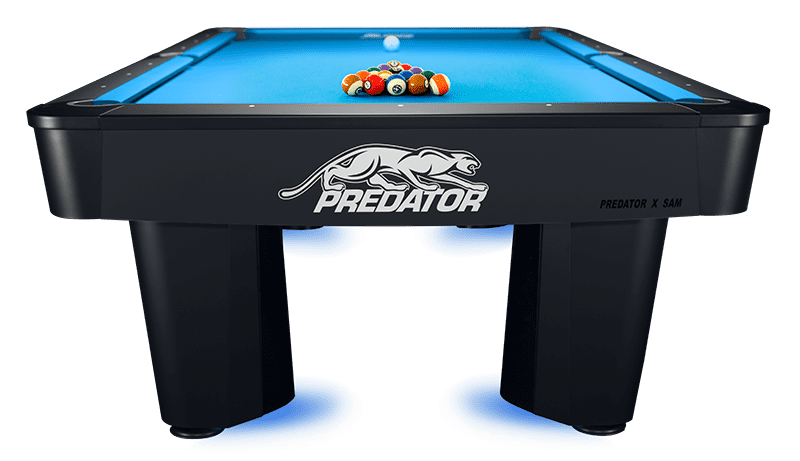 Apex Pro Weight: 530 KG
Overall dimensions: 9.43 x 5.27 x 2.58 Ft
Drop Pockets

Reinforced composite frame for increased stability and solid feel
Easy to adjust leveling system for the most accurate table calibration resulting in truer rolls
Pro Speed Cushion for the most consistent response
Ultra black matte Italian Laminati for an ultra-smooth, fingerprint resistant, and reduced glare
Most advanced pocket system with shock absorbers for consistent ball entry
Perfectly flush pockets with cool gray rim for easy targeting andeasy cueing
Sound dampening ball return system for noise reduction
Superior 25 mm Brazilian 1-piece slate for precision roll
Predator Arcadia Reserve cloth for fast play and accurate kicks and banks
Accented with Predator black gloss cats in a head to head challenge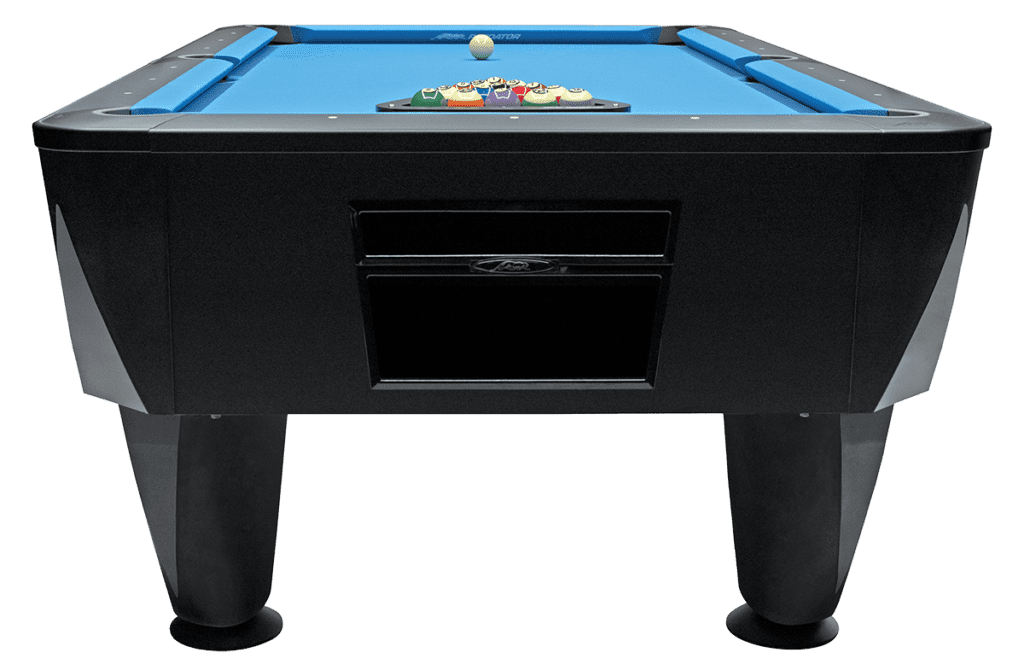 Apex Pro Weight: 254 KG
Overall dimensions: 7.66 x 4.37 x 2.65 Ft
Quietest Ball Return System