The idea and experience of a hot tub is a beautiful concept, but have you considered what your garden would look like if you placed a 600-gallon structure in the middle of it? The hot tub should be elegant, even when you are not using it, so we have got 7 useful tips on how to make an outdoor hot tub integrate perfectly with the surrounding areas.
Make It a Focal Point
If you would like to make your new high-tech hot tub the focal point of your garden, there are several steps that you can take to make your new addition look like the pièce de résistance that it is. Firstly, you need to make sure that all sides of the hot tub are not exposed, the beauty shows more if it has a complementary background instead of sitting awkwardly in the middle of an area (this is also much more efficient for space). Having nice chairs and other furniture nearby helps to create an atmosphere around the hot tub and can transform the space into an inviting social hub for your friends and family. If you would like your hot tub to stand out 24/7 as well as being more usable at night, lighting features can achieve this by making it the star of your garden!
Accessorise Your Hot Tub
You should also consider adding character and atmosphere to your hot tub with accessories, little additions such as wood finished steps, or a spa bar can make a big difference both aesthetically and practically. After all, who doesn't dream of having their own personal bar in a hot tub? Especially when you can get specially created steins and champagne flutes from our showroom and online. Visit here to browse our full collection of hot tub accessories.
Cover It Correctly
Imagine having an amazing spa in a gorgeous garden and then covering it with a cheap and dirty rug. Trust us, we've seen it before… Having the right cover on top of your spa can go a long way towards keeping it looking like a luxury product for a long period of time. There are different types of covers such as hardtop covers, roller covers and lifter covers, which are all good for different purposes. However, we would usually recommend the lifter covers based on looks and ease of use. You want to relax in your hot tub, so we can't imagine you wanting to manually lift a large cover on and off your spa every time you use it. A lifter cover does what it says in the name, press a button and the cover removes itself and stores tidily on the side of your hot tub. Our range of covers can be found here.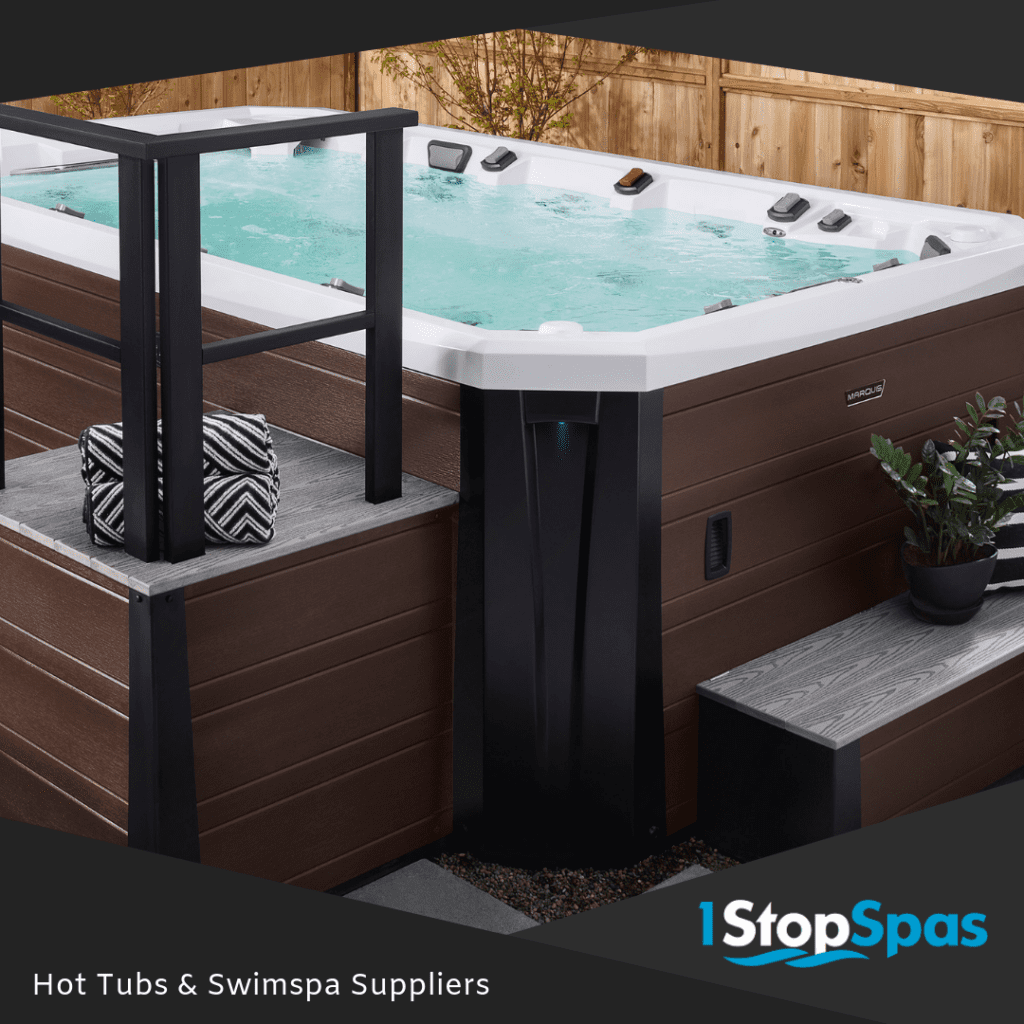 Make Sure The Spot is Accessible
A hot tub isn't exactly a small object, so it is important to assess if there is a clear route from the road all the way through to your desired location. Things to look out for are slopes, loose gravel, tight corners, overhead wires and pipes. If you buy a hot tub with 1Stop Spas, our specialist team of engineers would be able to assess the route and if there are any difficulties, we have equipment that is specially designed for transporting hot tubs to their final destinations so can reach locations that you might not be able to.
Check The Immediate Surroundings
Once the hot tub has made its way to its desired location, you need to ask yourself whether it will interfere with or damage any garden features such as flower beds or fruit and vegetable patches. For example, if your hot tub blocked the sun from reaching flower beds or fruit and vegetable patches for a significant portion of the day, it would cause them to deteriorate over time. It would also be a shame if you blocked the dogs' path to their favourite play spot, especially if Bob the Dog sees the opportunity for a swim in your uncovered hot tub…
Is There Anywhere to Drain Your Hot Tub?
There will come a time when you need to replace the water in your hot tub, so it is worth considering making sure that there is a place nearby that you can drain water into, whether this is a gutter or a natural water feature. After all, the last thing you would want is to flood your whole garden or your neighbours garden with spa water…
We recognise that every hot tub needs to be well maintained, so if you are thinking about placing your hot tub away from a drain (or if you just want to give the job to dedicated professionals), our friendly team offer various servicing packages that you can see here, or read our full blog on The Importance of Servicing Your Hot Tub.
If you would like any advice on how we can install your hot tub before or after you have bought one from 1Stop Spas, or you would like to accessorise your hot tub, please visit our website, visit our Lincolnshire showroom or get in touch! You can find us at https://www.1stopspas.com.