Hot Tub Winter Care Guide
As the nights draw in and the temperature starts to drop, many Hot Tub owners start thinking about what to do with their Hot Tub over the winter. Understanding winter care of your Hot Tub is essential for protecting the Spa from damage, avoiding serious problems, and getting the most from your Hot Tub through the winter period.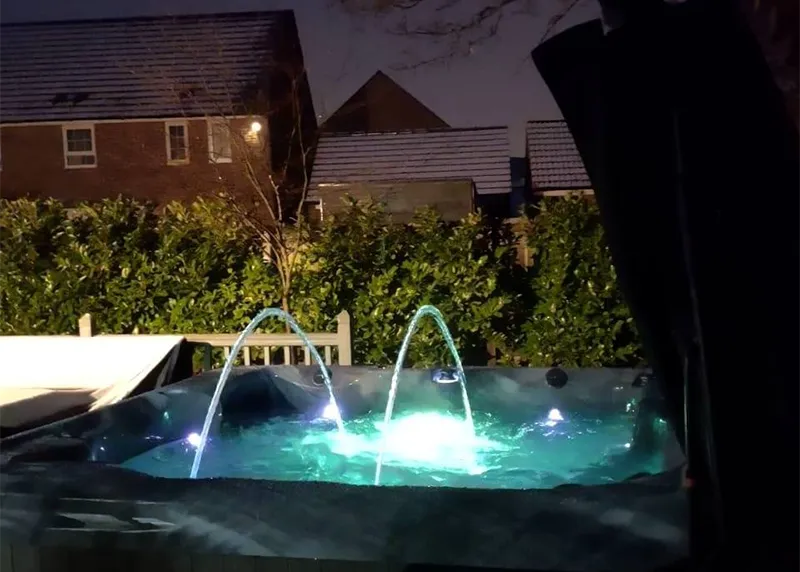 Do I keep my Hot Tub running over winter ?
Do I empty my Hot Tub for winter?
These are the two most common questions we get asked about Hot Tubs over winter.
Always keep your Hot Tub running over winter!
Every spring we are inundated with Hot Tub owners who have emptied and not ran their Hot Tubs over winter and have major, costly problems when they try to use them again.
Getting the right information on the Internet can be a minefield and everyone claims to be an expert, but remember, our Managing Director is a Hot Tub industry specialist to the British Standards Institution (BSI), as well as being a BISHTA qualified instructor so you know our information is good.
Some sources say you should drain and not run your Hot Tub over winter but there are two major problems caused by doing this.
1 – No matter how thoroughly a Hot Tub is drained, its virtually impossible to remove every last drop of water. Hot Tubs have many metres of pipework and other components inside them, with lots of bends for water to reside in. This water will freeze and damage pipes as well as other components that can lead to costly repairs. This is even more problematic for Hot Tubs that have fully foamed insulation as all the insulation must be removed to repair the fault and that's after the how difficult it is finding the fault in the first place.
2 – Any water no matter how small left on a pipe will be a breeding ground for bacteria. Over the winter this might only be a small amount but as soon as the Hot Tub is refilled in the spring, this bacteria will multiply rapidly and can be extremely dangerous.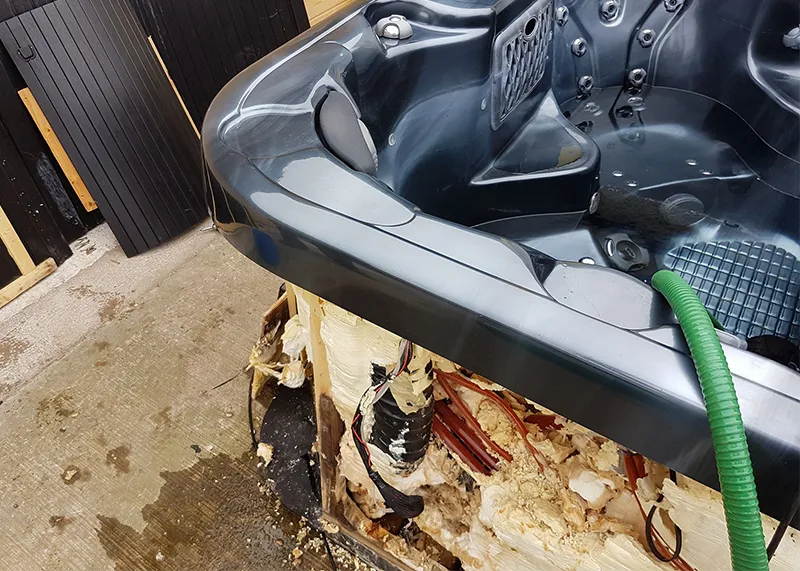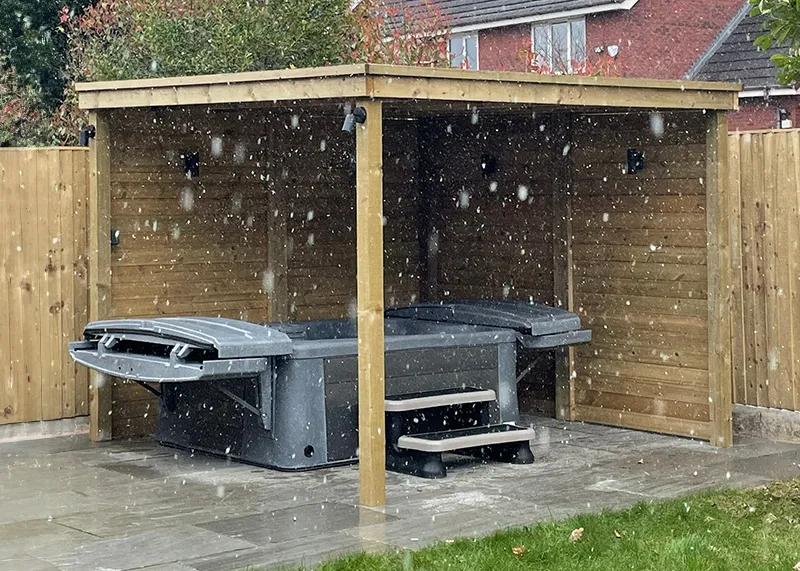 Part 1 - Prepare for winter
With a small amount of work you can get your Hot Tub ready for the winter period.
A Thorough Clean
Start by giving your Hot Tub a good clean which is more pleasant to do before the weather gets really cold. Start by emptying all the water out of the Hot Tub and then give the shell a thorough clean.
Clean Or Change The Filter
To make sure your Hot Tubs filtration is working optimally over the winter period, inspect the filter in the same way you would for regular maintenance and give it a good clean. If its old or worn now is a good time to replace it.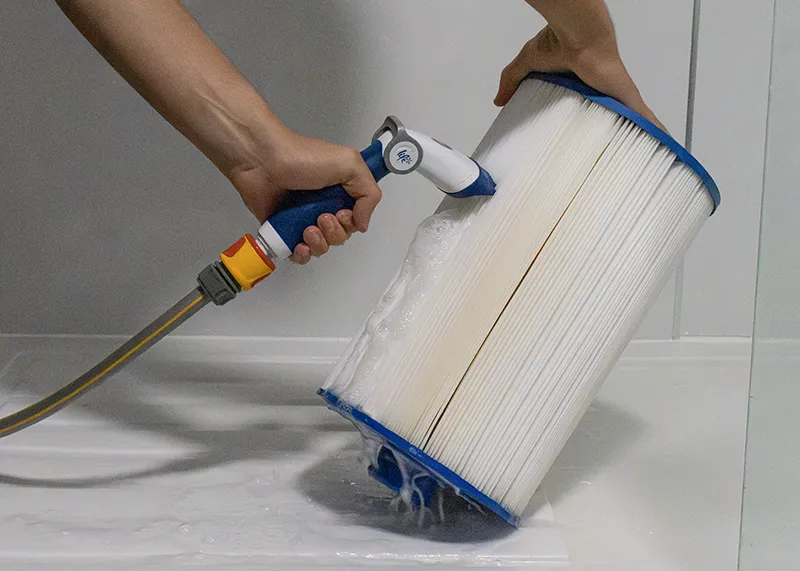 Check The Cover
In the cold winter weather your Hot Tub cover is more vital than ever. Firstly, it locks in heat which helps keep running costs down. Secondly, it protects the Spa from the winter elements. If yours is worn or damaged, now is the best time to replace it with a well-insulated, energy efficient cover. Make sure the cover is fastened down well to prevent it coming off in high winds.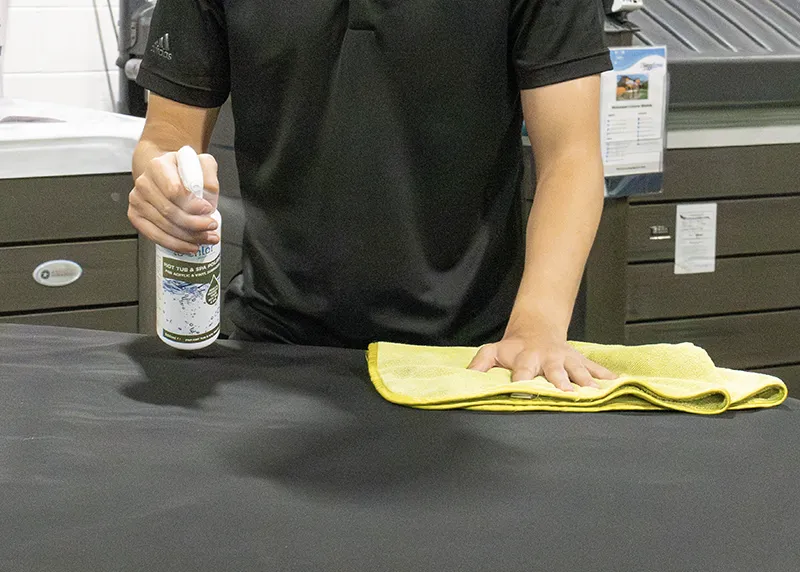 Refill the Spa
Once you're happy, everything is clean and in good condition, refill the Hot Tub with clean water. Just like any other time of the year, water chemistry is still vitaly important. Make sure the new water is balanced and safe.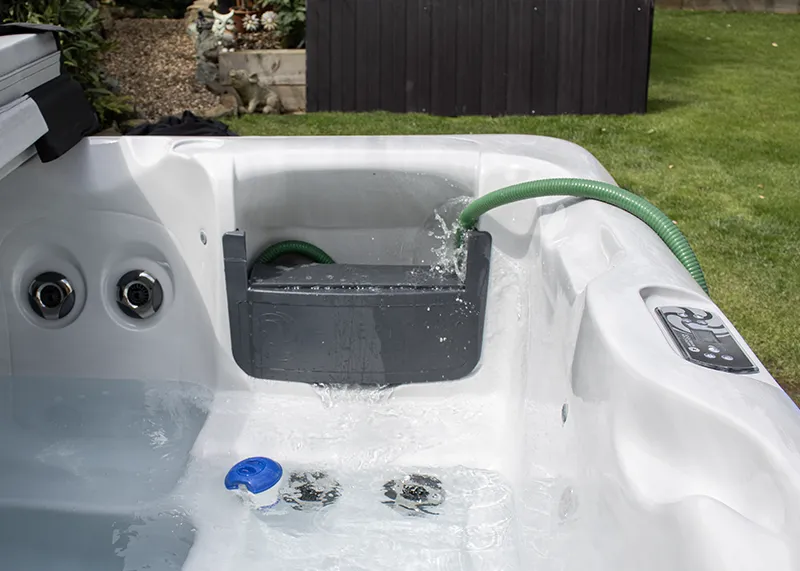 Temperature
If you don't plan to use your Hot Tub much over winter, you can reduce the temperature. All quality Hot Tubs will have a Non-freeze mode which is often around 15°. This keeps lukewarm water running through the Spa so you won't have to worry about freezing or standing water. It's the most cost-effective way to run a Hot Tub over winter.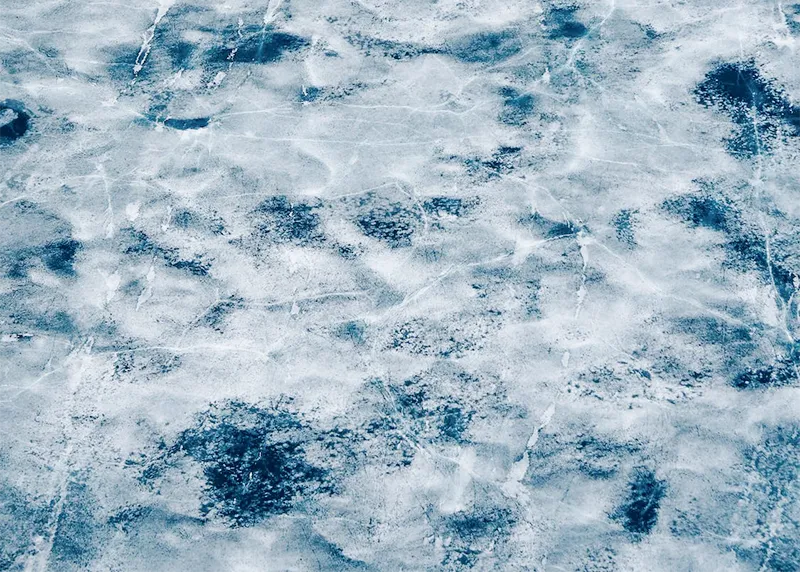 Lighting
If it's going to be dark when you use or maintain your Hot Tub over winter, make sure you have adequate lighting both for the Hot Tub and the path to it to avoid accidents in the dark. This is especially important if its wet or frozen outside. Ambient lighting can create a really amazing atmosphere in the Hot Tub on cold dark nights.
Part 2 – Winter maintenance
To keep your Hot Tub in good condition and performing its best, its important to do maintenance over the winter.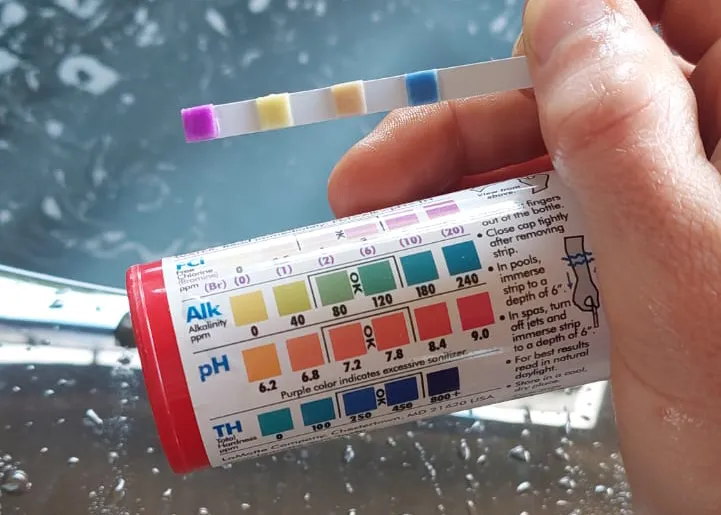 Water Maintenance
Maintaining water balance it's just as important in the winter as any other time of the year so will need to be regularly checked and adjusted where required.
Check The Water Level
Many people are surprised that evaporation from a Hot Tub is higher in winter than in summer. This is due to the greater difference between water temperature and ambient air temperature. Make sure your Hot Tub is water is topped up if it drops below the correct level.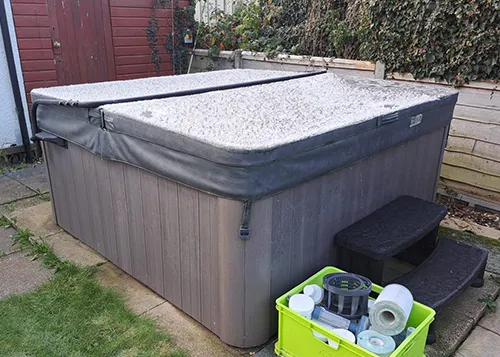 Ice And Snow
Snow and ice are common when it gets really cold in winter, and neither are good for your Hot Tubs cover. Snow in particular can add a considerable amount of additional weight and should to be removed as soon as possible.
Keep It Covered Up
While it might be obvious, it's important to keep your Hot Tub covered up in winter when it's not in use to protect it from the elements and to keep the heat in.
Avoid costly mistakes by not doing the following.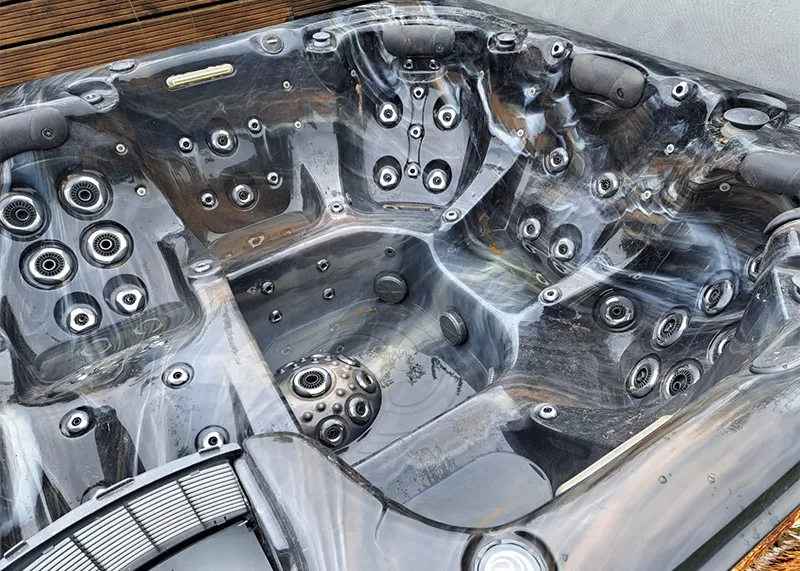 Don't Leave It Empty
As we mentioned earlier in the article, don't drain down and leave your Hot Tub empty over winter. Any money you might save by not running it could be a lot less than the cost of potential repairs.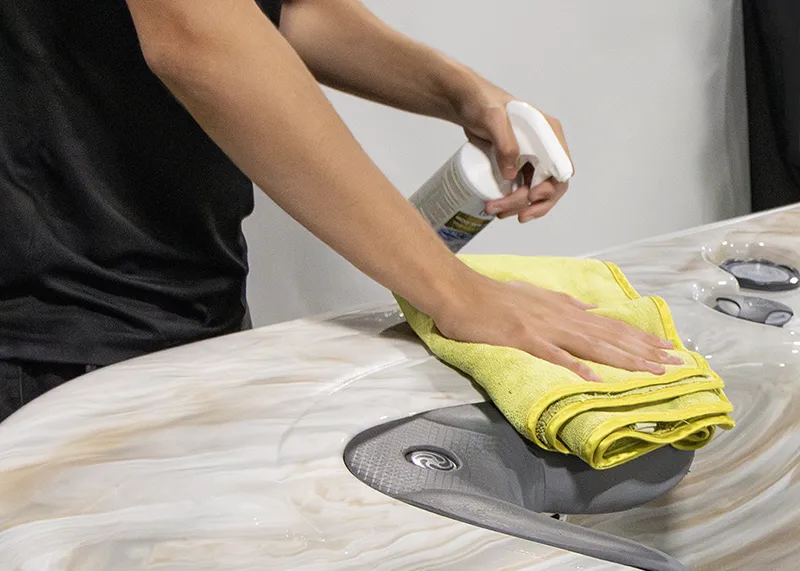 Don't Neglect Maintenance
If you don't use your Hot Tub much over winter, it's easy for it to become out of sight out and of mind, however, basic maintenance still needs to be done. Looking after your water and cleaning the Hot Tub is no more time-consuming than any other time of the year.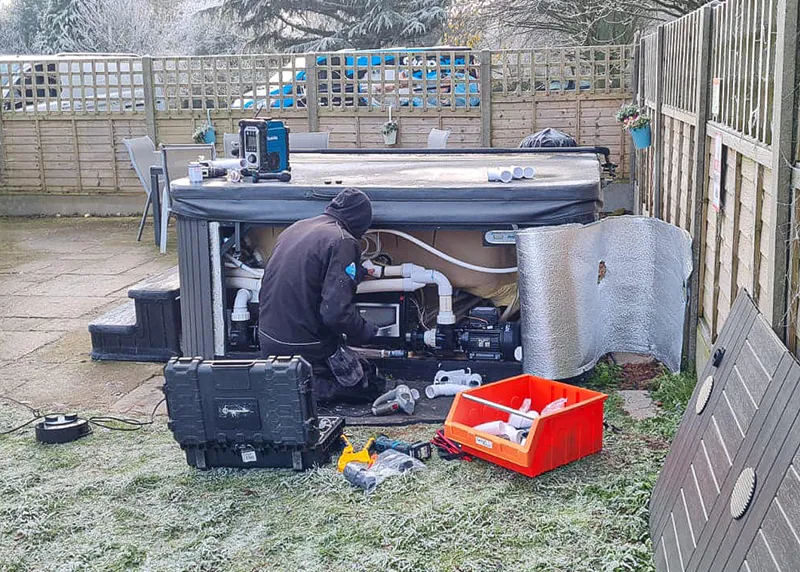 Don't Ignore Any Repairs
If your Hot Tub breaks down over winter or develops any noticeable fault, have it inspected by qualified technician as soon as possible. It won't fix itself and by not having it repaired, more expensive problems can be caused leading to an unpleasant surprise in the spring.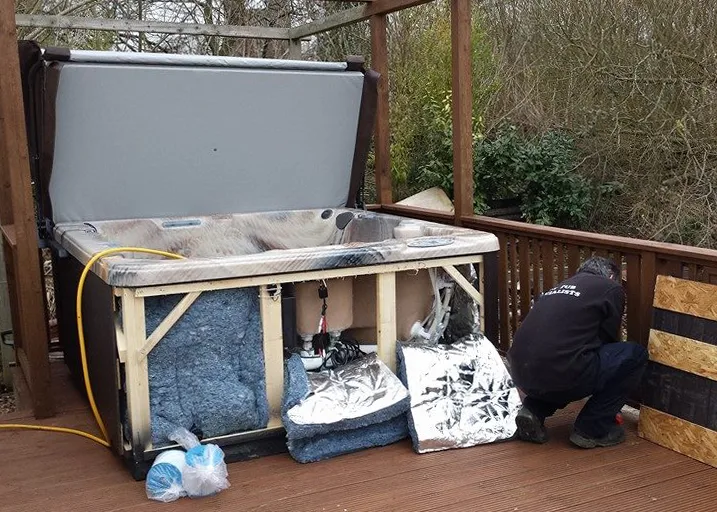 Draindown Winter Service
While having a standard Hot Tub service before winter can be beneficial, some companies offer a winter drain down service, which is asking for trouble for the reasons previously mentioned. We can't say it enough, don't leave your Hot Tub empty over winter.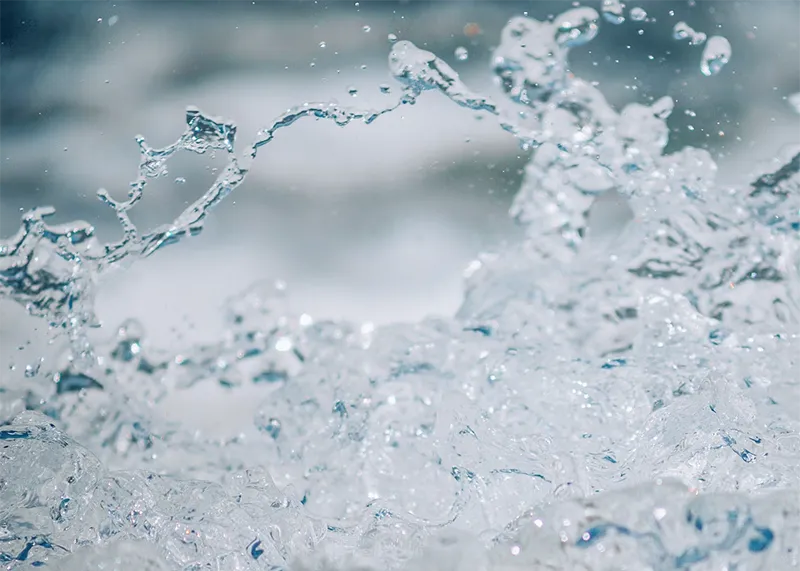 Thermal Blankets
Using a thermal blanket is sometimes mentioned to lower your running costs over winter. These are floating blankets that sit on top of the water to add an additional layer of insulation. Sometimes these are like the blue ones seen on swimming pools. They are designed to absorb external heat which is passed into the water and to stop heat escaping from the water. They aren't very efficient on Hot Tubs because the Spas lid covers them which stops external transfer. If you have a quality insulated lid, the thermal blanket will make almost no difference, but it will harbour bacteria, so you will use more sanitiser to maintain your Hot Tubs water. If you buy a well-insulated Hot Tub with a well-insulated lid, you won't need a thermal blanket.
Part 4 - Why There Great To Use In Winter
Can I use my Hot Tub in winter? Yes you can!
Many of our customers tell us that their favourite time of the year to use their Hot Tub is winter. The contrast between the warm, soothing, hot water, and chilly winter air can provide an extremely cosy an enjoyable experience. There is no reason not to use your Hot Tub in winter.
The Same Amazing Benefits
Some people use Hot Tubs as a way to relax, others use them for socialising. Whatever the reason you love your Hot Tub you can get the same benefit in winter as you can any other time of the year.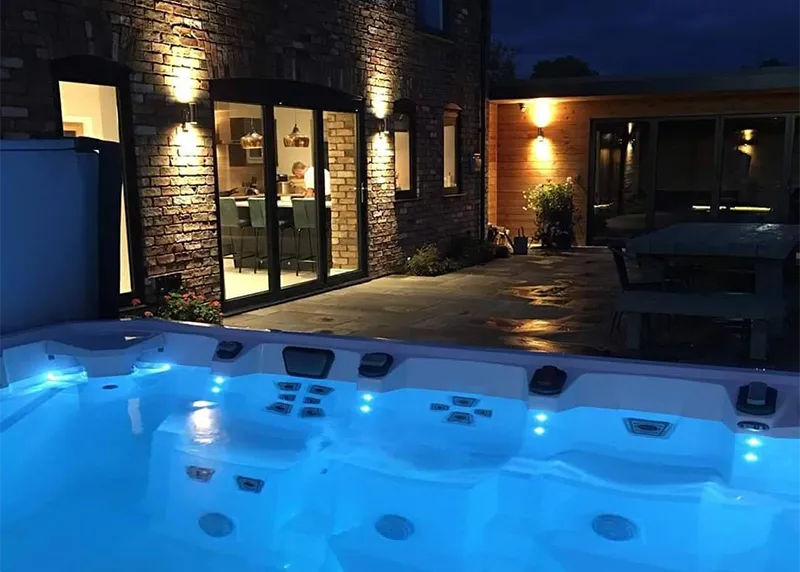 Warm Up
There is no better than way to warm up in winter than with a Hot Tub. Who hasn't come home on a cold winters day and stood by the radiator, or cupped their hands around a hot mug to warm them up. Getting in your Hot Tub is the ultimate way to get warm.
Get Outside And Use Your Garden
Most people use their garden far more in the summer than they do in the winter and some people rarely go in the garden during winter. By using your Hot Tub in the winter you're making the most of the outdoor area of your home which otherwise might not be enjoyed for extended period.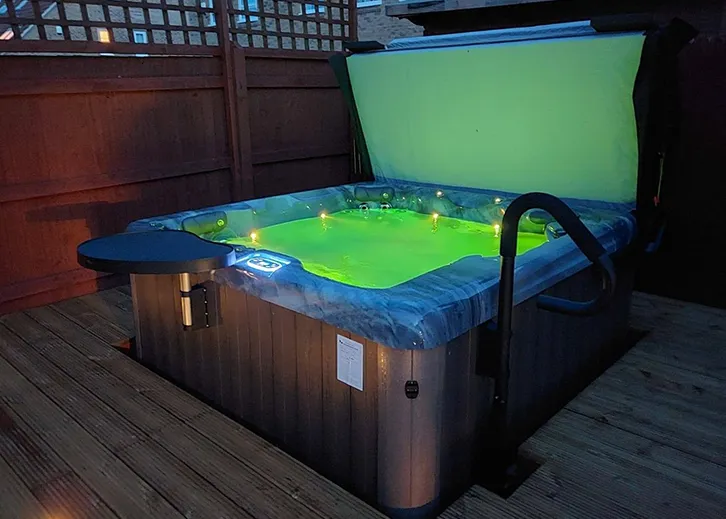 Social Celebrations
Christmas and New Year are two of the biggest celebrations of the year and what better way to see them in than with friends or family in a warm cosy Hot Tub.
Health Benefits
The list of health benefits that come with using a Hot Tub is long and doesn't just change when winter arrives. A cold winter can be the worst time of the year for people with joint or nerve problems but using a Hot Tub will have the same soothing benefits.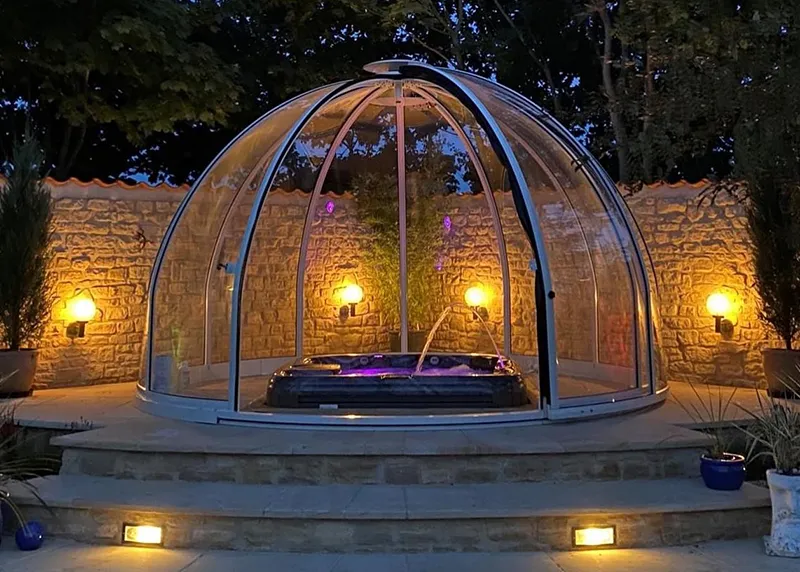 You're Paying For It Anyway
You've paid for your Hot Tub and you're paying to run it so you might as well and use and enjoy it. There's no reason not to.
Understanding the basics of Hot Tub winter care is essential to avoid costly repairs and prolong its life. By following our guide you can not only enjoy your Hot Tub all year round, you can and have it ready and running optimally when the weather warms up again in the spring.