We are nearly at the end of 2020, and what a year it has been, I think we can all agree that this year has been very different from what we all expected. However, it is nearly Christmas, so we need to remain positive and still have a happy Christmas surrounded by friends and family. 
With that in mind, we have put this blog together to give you some ideas of household fun you can have this Christmas. 
Spending time in the hot tub is not only relaxing, but it can also be lots of fun. With the current restrictions in place, it seems that we can't go out and celebrate this Christmas, but it doesn't mean you can't celebrate in the comfort of your own home.. Or hot tub! 
Avoid the Ping Pong
All you need for this game is up to five ping pong balls, or similar! The overall objective is to avoid being touched by the balls. It may seem easy, but depending on how many people are in your tub, it may soon become difficult! To add a twist to the game, all feet must stay on the bottom of the hot tub! 
Rubber Duck Race
Who doesn't love a good race? A perfect game for the kids, line up your rubber ducks at one end of the hot tub and see whose duck makes it to the other side first. You could blow, splash or push your duck, but you can't use your hands! Running low on rubber ducks in your house? Check out our range here!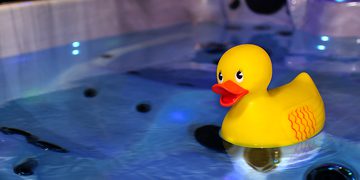 Submarine
If you are looking for a competitive game, then this is the one for you. All you need is two large plastic cups, the goal is each player must pour water into the floating cup without it sinking to the bottom of the hot tub. We recommend that you turn your jets off at the point just to make it a little bit easier! Simply keep taking it in turns pouring water into the cup and the first one to make it sink is the loser! 
Musical Chairs
You might think this game can only be played outside of water, but that is where you are wrong – it can be played in a hot tub too! Ask someone to play a song and then everyone in the hot tub has to move around, once the music stops, you all need to freeze where you are. If you do not have a jet turned on behind you when you stop, that means you are out and must get out of the hot tub whilst the remaining people carry on. Remember, you can't just hover around a jet, you have to keep moving! 
Simple Throw & Catch 
You could just play a simple game of throw and catch if there are more than 2 of you in the hot tub just go round in a circle. But who is the winner? Well, to add some competition, if anyone drops the ball then they are out, and you can then just keep playing until you have a clear winner of throw and catch! 
The above are just a few games that you could play in your hot tub, but you can also make up your own games, be creative with it and get everyone involved. At 1 Stop Spas, we have a full range of fun stuff that you could include in your hot tub activities, you can find the full range here. 
The most important thing to remember is to have fun! We might not be able to do the things we wanted this Christmas, but we can still make sure the festive period is enjoyable!