Looking to create an oasis just footsteps away from your home?
Covana lifters elevate your hot tub and add a unique and luxurious feel to your garden.
In this article, we are going to go through the specialist Covana products we sell here at 1 Stop Spas and the endless benefits each one provides.
Covana Evolution
Offering a fully automated cover, the Covana Evolution provides seamless protection for your hot tub and allows you to say goodbye to the difficult and awkward process of physically placing your hot tub cover back on.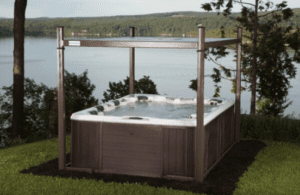 The Covana Evolution offers a streamlined, wood effect style and helps elevate the look of any hot tub. But more importantly, its automated functionality means that you can effectively and quickly protect your hot tub and keep it safe and secure compared to any light material cover.
If you are looking for an option that adds luxury to your garden, whilst keeping your hot tub fully protected, then the Covana Evolution is an ideal choice. 
Covana Legend Automated Swim Spa Cover
Legend in the title, legendary in its design.
This Covana cover is made specifically for swim spas and offers a hard-wearing automated cover for your spa.
Swim Spas are larger in size, so finding secure options like this is rare to find. The Covana Legend cover also offers high insulation and its secure cover keeps you protected from the typically common dreary UK weather conditions whilst in your spa, so you can relax to your heart's content, without the weather being a restricting factor.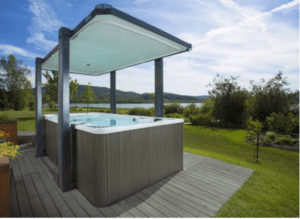 With its innovative, modern design, this option is perfect if you are looking for a more modernised option that works for both oval and rectangle swim spas.
Covana Oasis
Create your own 24/7 oasis in your own back garden with this Covana hot tub cover.
Slightly different from the other options, the Covana Oasis offers a built-in cover, which also turns into your own hot tub gazebo.
This choice is perfect if you are looking for different options whilst in your hot tub, as you have the ease of choosing whether to have just the roof over your tub or if you want to bring up the side walls to maintain privacy.
The Covana Oasis is especially ideal if you want to have a hot tub, but may have restricted privacy, as you can relax in your own hot tub shelter.
Underneath the cover you are also treated to a built-in LED lighting system offering 7 different colour options, allowing you to create a relaxing ambience for yourself and others who use your hot tub.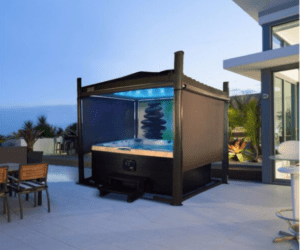 Covana is a renowned brand in the hot tub and swim spa industry, and you can see why.
Elevate your hot tub and the way you relax with Covana. To find out more, you can shop here. Or get in touch with one of our experts today.