Here at 1StopSpas we're one of the UK's leading hot tub and swim spa specialists. Founded in 2008 we are now a multi-award winning business. In 2012, we opened our first showroom and are now one of the most trusted and reliable retailers around, with a total of three showrooms. 
When we first opened, the focus was on hot tub maintenance and repair. This has since expanded to have a focus on supply. 
One of the most exciting brands we stock is American Whirlpool Hot Tubs, these are extremely popular and are the ideal hot tub for socialising, relaxation, family time, and amazing hydrotherapy. 
So what do American Whirlpool Hot Tubs offer? 
So Who Are American Whirlpool Hot Tubs?
Let's start by speaking about the brand itself. It is no surprise that we only stock the highest quality hot tubs, meaning American Whirlpool is a brand you can have confidence in. 
American Whirlpool is the world's first 'Superbrand' and was launched by Maax Spas in 2018; a combination of the best selling models from their 4 original brands (Maax Spas, Coleman Spas, LA Spas & California Cooperage). In the last four years the Superbrand has made a big impact on the industry. They're dedicated to accelerated innovation, offering you a luxury experience from the comfort of your home. 
What do the hot tubs offer?
An American Whirlpool Hot Tub can diminish the stresses of your day, as well as alleviate the pain of sore muscles and sports injuries and help you to achieve a good night's sleep. The American Whirlpool Hot Tubs' TheraMAAX jets have been scientifically designed to maximise the performance of their hot tubs and improve the massaging action.
SmartTouch Control panel
Some American Whirlpools are fitted with touchscreen control panels meaning you can change your settings quickly and simply with an easy-to-use display. This level of versatility and customisation of experience is unrivalled.
Designed with the body in mind
Each seat in an American Whirlpool is designed to provide you with full body immersion whilst supporting optimum posture. The unique cushion offered in some models helps to support your neck and cradle your head so you can fully enjoy the jets massaging your neck and shoulders. The foot relief zones ensure the upper and lower parts of your feet can enjoy a massage too.
Cleaning your hot tub
Keeping your hot tub clean is paramount to your hot tub working well. American Whirlpools have an easy 4-step cleaning system and dual sanitisation. This technology is used across the world to sanitise drinking water so that goes to show just how clean your water will be. 
Keeping your hot tub warm and energy efficient
The hot tubs are made with Northern Exposure Insulation Systems that offer a unique three-layer thermal barrier that works by reflecting the radiant heat energy that's generated from the pumps back into the hot tub. This means that the energy created by your hot tub stays in your hot tub and any heat is recycled back into the water. Some All models can also be fitted with an Air Source Heat Pump, this is carried out by a certified hot tub technician to ensure maximum energy efficiency. Once completed, this can help to lower the overall running cost of your hot tub.
Three of our favourites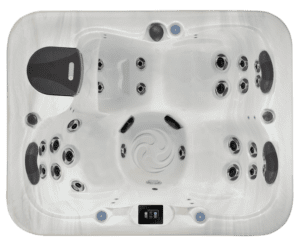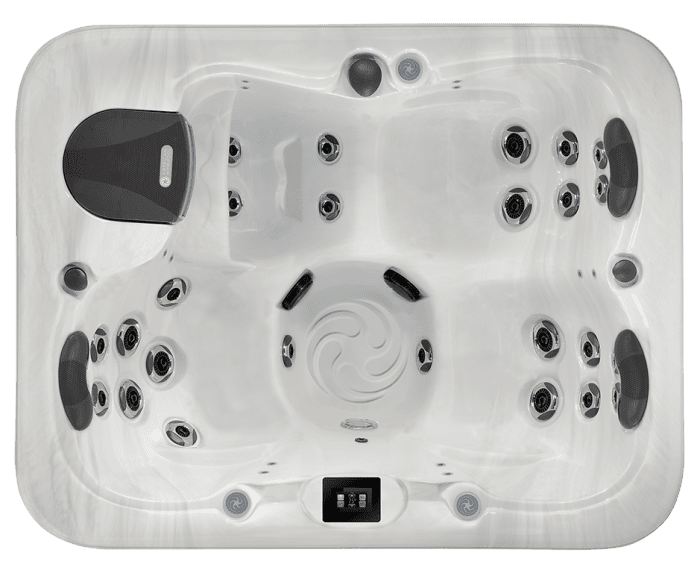 This hot tub is ideal for those with smaller or awkwardly-shaped gardens. Fitting 2-3 people this is the perfect spa for couples looking to relax after a long day at work or invite a friend over to socialise with a glass of wine. Don't judge by the size, this hot tub offers all the standard features found in larger tubs such as blueMAXX insulation and moulded grab bar.
If you're looking for something a bit bigger, this hot tub has enough room for 6, ideal for small gatherings. Each set offers a different massage experience and the lounge seat has jets all the way down the back of your legs, great for relieving tight muscles. This hot tub is also available in a range of colours to suit your garden aesthetic, such as silver marble, midnight canyon, and Tuscan Sun.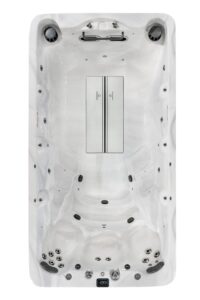 Whether you're known for your amazing garden parties and you want to take them up another notch or you enjoy an early morning swim, this 14ft swim spa is the one for you. It comes with multiple exercise equipment options meaning you can use it as your at-home gym during the day and use the BlueTooth audio in the evening to listen to your favourite music whilst enjoying a relaxing massage with friends.
Even more information
1 Stop Spas stock a range of American Whirlpool hot tubs and swim spas. From tubs made for 2-3 people to enjoy, right up to spas made for gentle swimming with room for up to 12 party guests. All American Whirlpools can be paid for monthly with an interest rate of 4.9 (at the time of publishing). Book a virtual site survey or hot tub consultation to see which hot tub would be right for you and your garden. 
Alternatively, you can come to one of our three 1 Stop Spa showrooms to experience one of our hot tubs in action.
Relax in luxury with our incredible American Whirlpool range