Here, at 1 Stop Spas, our extensive knowledge on garden buildings and hot tub enclosures help to provide you with the best information on how to make the most out of your garden, whilst also creating a space for constant relaxation for you and your family.
Whether you are looking for a log cabin to use as your own office, a workshop or even perhaps a relaxing hideaway, a gazebo to provide a more intimate feel for your hot tub, or a barbecue house for parties and social events, we have got you covered.
Let's take a look through a range of luxurious garden buildings and find the perfect one for you.
Log Cabins
Helping to provide a relaxing garden retreat that stays cool in the summer and cosy in the winter, log cabins offer a versatile range of amazing opportunities, including a useful office space or workshop, making the dream of working from home a possibility. Just imagine if your daily commute is just at the bottom of your garden!
However, if you are looking for a more profitable option, then why not consider renting out your log cabin? This is perfect for anyone who may have a large garden and feel they could provide an amazing night away for someone, whilst also making use of your log cabin when it's not in use. 
Not only will it begin to be profitable, but it also helps to bring in an extra income into your home any time of the year, which is always beneficial.
Gazebos
Hot tub gazebos provide essential shelter for your hot tub, making it accessible any time of the year, meaning you can relieve any aches and pains or just enjoy pure relaxation, whilst still feeling the refreshment of the outdoors.
The structure of a hot tub gazebo is not like your standard gazebo, they can be built with a wooden roof on stilts, metal panels with screens or even pillar stones, but these are just a few of the possibilities you can choose from.
Hot tub gazebos can be small enough to cover a hot tub, or large enough to create your own outdoor room with additional furniture, lighting and decor. The choice is up to you.
Saunas
Providing you with the perfect opportunity to relax and unwind, every single day. Saunas and steam rooms are a great way to chill at the end of a hard day, but many people who use them regularly also use them as a part of a healthy lifestyle. 
The benefits of saunas include:
Calorie burning & weight loss.

Improvement in circulation.

Detoxification.

Respiratory relief.

Alleviation of joint and muscle pain.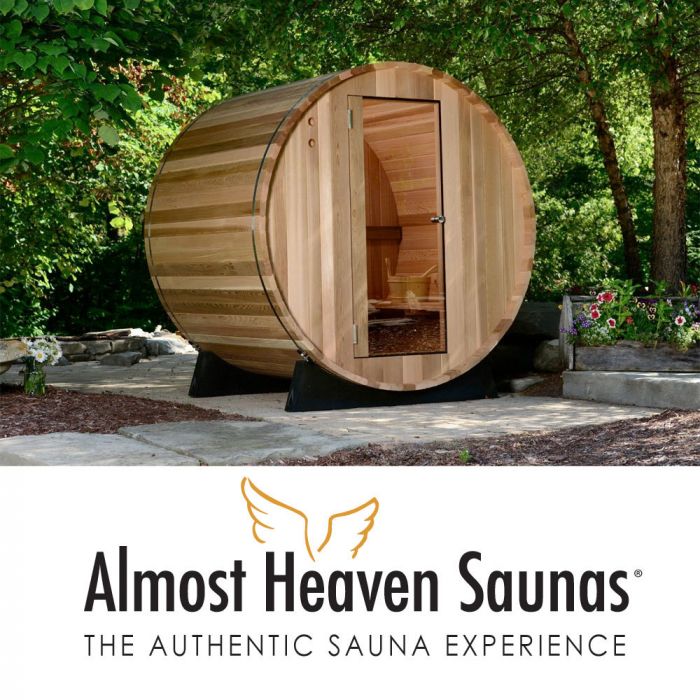 So, forget about those awkward sauna sessions at the gym with people you don't know and relax with your own sauna and experience all of the proven health benefits in the comfort of your own home, with all the privacy you need.
Barbecue Houses
Helping to take the guesswork out of your family party, sleepover or romantic evening in, a stylish barbecue house is also guaranteed to be the perfect venue for an informal get-together, making this convenient for any time of the year, without having to worry about the ever-changing weather conditions here in the UK!
These are also available in a wide array of sizes, making this a versatile option for many gardens.
Outdoor Play Equipment
Playing outdoors is an essential thing for kids as they grow up and active play is easily achievable to their development with the use of our outdoor play equipment, which can be personalised to your specific requirements.
Outdoor play equipment is also known to improve a child's health, social skills and learning, whilst they are also having fun!
If your family are beginning to explore more outdoors, then considering this option is essential, and can be fun for all the family adding that exciting 'fun' factor to your garden.
Garden Buildings
Garden buildings are designed to provide extra essential space that helps to provide storage, shelter or even a workspace, assisting in providing an aesthetically pleasing layout to your garden, by hiding away all of your things.
This option is perfect for families who may have a multitude of toys to store, or for someone who works from home and needs a space for their work essentials without taking up room in the house, this is perfect if you have a smaller home but still need extra room for storage.
Now that we have gone through the many options you can consider, feel free to take the time to find the right option for you. From sensible purchases to buildings that can provide you with pure relaxation every day, garden buildings are perfect for any garden, in any home.
If you would like to find out more about garden buildings, or any services we provide here at 1 Stop Spas, then do call us on – 01522 300737