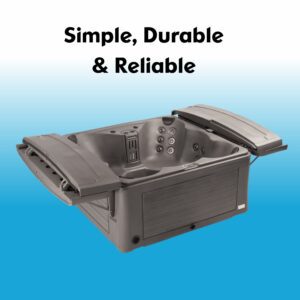 When you think of a Hot Tub, you probably think of shiny acrylic, composite sides and with a big hefty cover that you can't easily lift on and off. Acrylic shells are injection molded into a mold, and then backed with many layers of fibreglass to give it the strength before being placed on a wooden, composite or metal frame. A costly and time consuming process.
Rotational molding has been around since the late 90s and was a radical new concept. The idea was to build the whole hot tub out of a single polymer plastic shell, hugely reducing time and cost of spa contruction. Whilst most Rotomolded spas are basic 'entry level' options, Tuff Spas choose to offer the same level of specifiation and power than most acrylics, but in a time-efficient, more robust rotomolded shell, offering the best of both worlds.
Rotomolds
PROS: Firstly, the cost of a rotomold is less than its acrylic equivilent. Many of the spas offer 'plug & play' which can plug into a standard 3 pin socket. The Tuff Spa range is extremely durable and performs much better in colder climates than standard acrylic hot tubs, with most marks or scratches on the shell being repairable. The structure/shell also come with lifetime warranties, so whilst most spas will end up in landfill after 10-15 years, Tuff Spas really are a spa for life and can largely be recycled at the end of it's life, which is far better for the environment than it's acrylic cousin!
CONS: So the obvious one is the appearance of the spa as it's never going to shine like an acrylic and often there isn't the same choice of colours either. The 'plug & play' models will typically be less powerful than a hard wired (but then Tuff offer both options anyway).
So lets look at Tuff Spas in a little more detail. 
Tuff Spas are SIMPLE, DURABLE & RELIABLE. They are built in the USA to be energy efficient, environmentally friendly and the most durable hot tubs on the planet. They are the only hot tubs to be made from recycled plastics using rotomolded technology, producing ultra low emmissions during their manufacturing and as mentioned above, come with lifetime warranty on the shell, structure, base and insulation.
Our insulation is made from recycled denim and foil, making it super efficient and can be removed and refitted for servicing with no loss of insulating properties. Not only does the denim keep the cold out, the foil keeps the heat generated from the pumps, in.
Probably the biggest feature of Tuff Spas is the Tuff Top! This top is like no other out there on the market and makes opening a spa so easy. The safety cover splits into 2 halves, gliding open with the lightest of touch and coming to a resting place either side of the spa, meaning no distruption of  beautiful views, unlike a bulky cover on a cover lifter. The Tuff Top is fitted with a gasket seal, which prevents heat escaping from the spa whilst not in use and both sections interlock, preventing any small children from accessing the spa on their own. The best part – No more Vinyl Covers and broken cover lifters ending up in landfill every 3 years!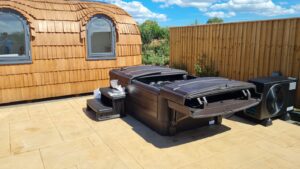 All of the Tuff Spa range is built to comply with the HSG282 guidance, meaning they are suitable for both home and business use, for example, holiday lets and Air B&Bs. This is vitally important to ensure the hot tub operates correctly and the bathers will be safe whilst using the spa, but also makes your life so much easier, with in line dosing, amazing 24 hours filtration rates and ozone to help kill bacteria in the spa.
So, is it right for you? 
If you own a holiday let, park or Air B&B, then adding a hot tub to your property can see your rental bookings and income raise by up to 82%. Bookings are typically more consistant 52 weeks of the year as people look to escape and relax from everyday stresses and repeat bookings become the norm. However, holiday makers don't tend to look after a spa like they would if it were their own, so you need the durability of a Tuff Spas hot tub, the efficiency of heat lock insulation technology and the ease of cover opening that you get from Tuff Tops. Whats more, you can add an Air Source Heat Pump to make the spa even cheaper than ever to run, with far less energy consumed than standard electric heaters and reduce your carbon footprint and impact on the environment!
If you are looking for a spa for your own back garden, then the Tuff Spa is also perfect for you. If you have children who jump in and out, dogs that may stand and watch from the side, or want the stability of a slightly textured surface, then rotomold is for you. Maybe if your upper body strength isn't what it used to be and you can't manage to open and close a standard cover, then the Tuff Top is guaranteed to be the cover for you. The Tuff Spas range also doesn't need any permanent concrete bases laying, so why go to the expense of builders fees, when you can place one of these spas where ever you have some level ground, whether that be on gravel, decking or even grass! Lastly, if you are in a rental property or military quarters, then this is most certainly the spa for you, with no need for any expensive electrical work and landlord approval to do so, just use an existing socket!
If you want to know more about this amazing range, please contact us on 01522 300737 or take a look at our range here.