Product Overview
As a latest generation heat pump, the Poolex Vertigo Fi 55 Air Source Heat Pump aims to be efficient, economical and silent.
The Poolex Vertigo Fi 55 Air Source heat pump combines all the features that have made our previous heat pumps so successful, and it is available in 11 capacities from 5.5 to 35 kW, therefore, the largest range from Poolex. It incorporates Full Inverter technology with a multi-frequency compressor and a variable-speed fan which considerably reduces electrical consumption and sound pressure thanks to a soft start functionality and continuous operation at reduced speed, avoiding any peak in consumption.
The Vertigo Fi 55 combines design and cutting-edge technologies, being in a vertical form and with upward ventilation requiring only a small discharge area, this heat pump can be installed in a confined space, perfect for installing out of sight.
Poolex's LED technology has been integrated on the Vertigo Fi making it easy to use with three colors indicating the operating status of the heat pump:
Green : target temperature has been reached.
Blue : your pool is being heated.
Red : the HP is not in operation.
Convinced of the excellence of its products, Poolex warrants its heat pump for 3 years, 5 years on its compressor and 15 years against corrosion of its exchanger.
ADVANTAGES
+ Full Inverter Mode +35% savings
+ Upward ventilation: less space, quieter
+ Reversible
+ Automatic defrosting through cycle inversion
+ Twisted Tech© titanium heat exchanger
+ Indicative LED technology
+ Compatible with salt treatment
Heat pump
Compressor
Titanium coil (against corrosion)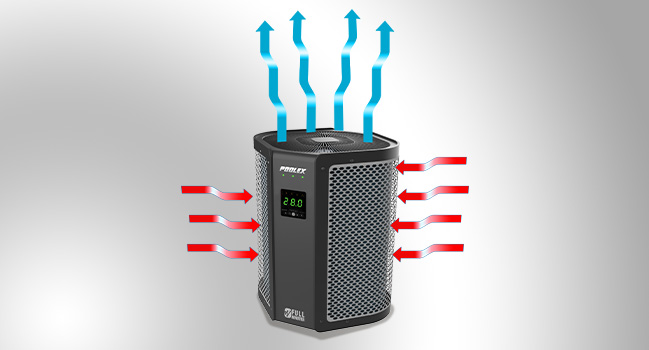 UPWARD VENTILATION
This heat pump's vertical architecture saves up space from two perspectives: in terms of floor occupation, but also because the vents evacuate used air towards the top.
FULL INVERTER TECHNOLOGY +35% ENERGY SAVINGS
Popular in the domestic heating and air conditioning sectors, Full Inverter technology adjusts precisely the fan and the compressor, turning the heat pump into a smart pump.
Unlike a traditional heat pump, the Full Inverter compressor starts up gradually plus if the set temperature is far from the swimming pool/hot tub actual temperature, an automatic regulator boosts the heat pump's capacity for a quick rise in temperature. Additionally, during swimming season, and to maintain the set temperature, the heat pump operates at reduced power.
This constant operation means that the Full Inverter heat pump operates in a more stable way and preserves the compressor from unwanted starts and stops, resulting in energy savings of over 35%.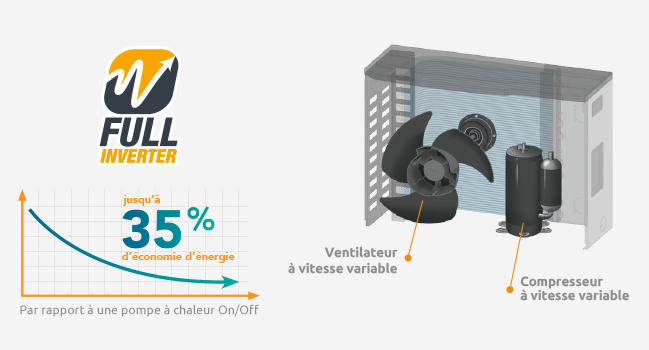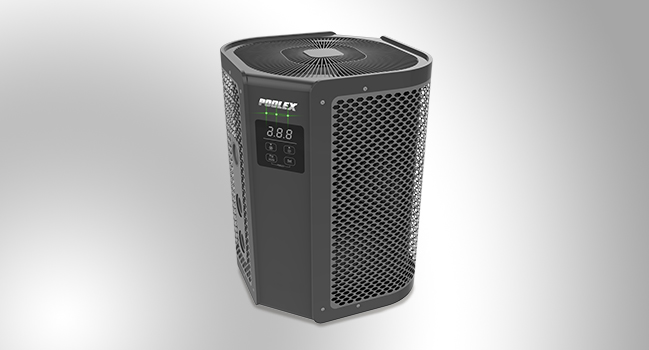 CONTEMPORARY DESIGN
The Vertigo Fi contemporary casing and design all in height reflect a ray of advanced technologies that make this heat pump a high-performance product that can be installed discreetly in the smallest of technical shelters.
WIDE RANGE FROM 20 TO 250 M3
The Vertigo Fi encompasses numerous technologies turning it into a complete range of heat pumps aimed at meeting a wide market, from private swimming pools to those that welcome the public.
From rotary compressor to twin compressor, the models in this range are available in 11 powers with a heating capacity for volumes from 20 to 160 m3.
Its COP greater than 7, particularly important for high power heat pumps, also benefits the models in the range intended for small swimming pools, hot tubs and Swimspas so you benefit from all the advantages of a pump belonging to an advanced range.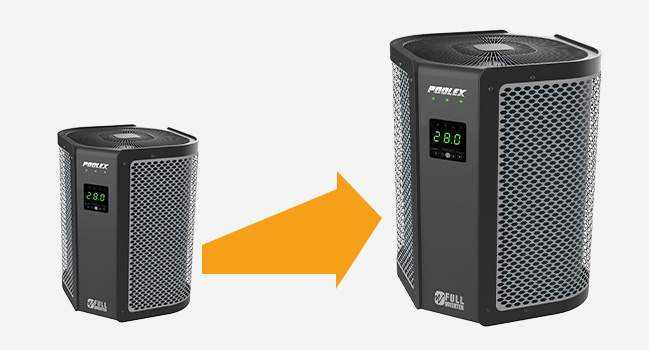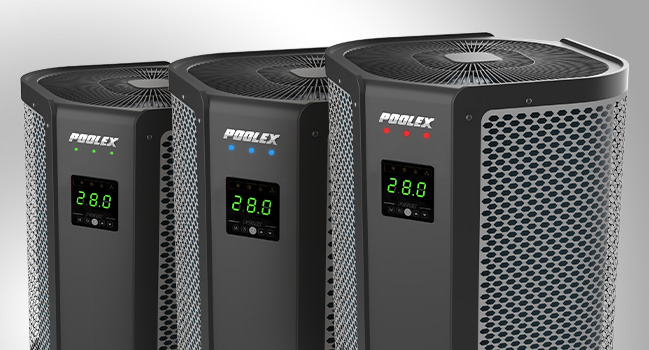 INDICATIVE LED TECHNOLOGY
LED indicators integrated at the front of the heat pump give it a colourful style while providing the most useful technical functionality: instant visualization of the pump's operating status.
Green : target temperature has been reached
Blue : your pool is being heated
Red : the HP is not in operation
For full techincal specification, click here ,  however if you are still confused and want a more general look at heat pumps, then click here