Product Overview
The Poolex Jetline Premium Fi 95 Air Source Heat Pump comes with Full Invertor Technology which only comes with its advantages including, a considerable reduction in electricity consumption and in sound pressure, as well as an increased lifetime thanks to its soft start functionnality.
Included is the new control panel with wired extension at 10m features the Eco Inverter and Power Inverter operating modes. You can control the Air Source heat pump remotly through your smartphone thanks to the integrated WiFi module and the extra bit to make life even easier, LED indicators have been added at the front of the heat pump to inform you, at a glance, of the current status.
Green : the heat pump has reached setpoint temperature.
Blue : the pool is being heated.
Red : the heat pump is inactive.
The Jetline Premium Fi features include : its reversible function that allows it to operate down to -15°C, its automatic defrosting capacity and its titanium twisted tech heat exchanger guaranteed 15 years and as we are so confident of the reliability of our products, the Jetline Premium Fi is guaranteed 3 years.
ADVANTAGES
+ Full Inverter Mode +35% savings
+ Most silent & economical
+ Soft start
+ New aluminium façade
+ Indicative LED technology
Heat Pump
Compressor
Titanium coil (against corrosion)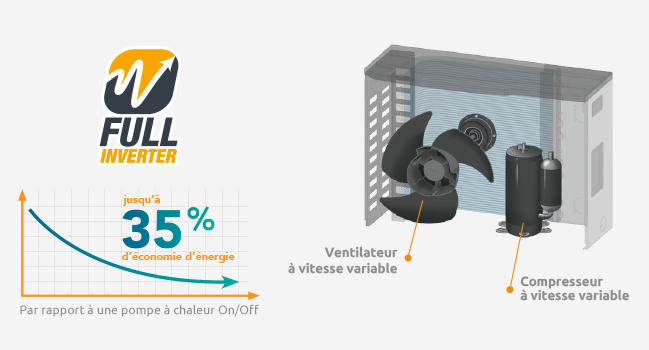 FULL INVERTER TECHNOLOGY +35% ENERGY SAVINGS
Due to popular in the domestic heating and air conditioning sectors, Full Inverter technology adjusts precisely the fan and the compressor, turning the heat pump into a smart pump.
So unlike a traditional heat pump, the Full Inverter compressor starts up gradually. If the set temperature is far from the hot tub or swimspa actual temperature, an automatic regulator boosts the heat pump's capacity for a quick rise in temperature.
Therefore, this constant operation means that the Full Inverter heat pump operates in a more stable way and preserves the compressor from unwanted starts and stops, resulting in energy savings of over 35%.
ALUMINIUM DESIGN FAÇADE
With its aluminium façade, the Jetline Premium Fi heat pump blends perfectly into your exterior.
This material, which is softer and more flexible, is highly weatherproof and reduces its noise level further.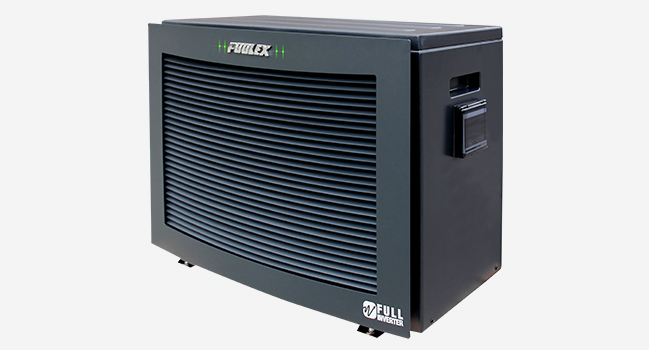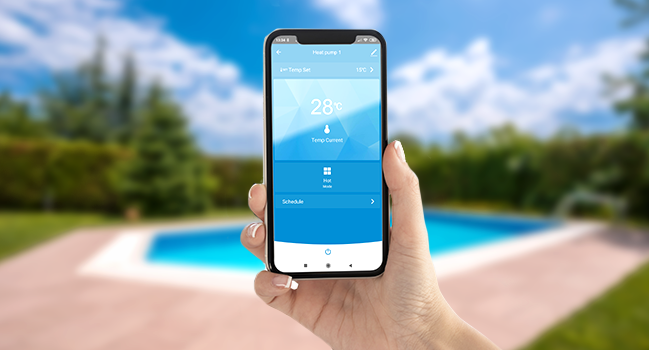 INTEGRATED WIFI CONNECTION
Because a heat pump, regardless of its capacity, must be as easy to use, you can control the Poolex Platinium via your smartphone over Wi-Fi using a control panel located on the pump.
INDICATIVE LED TECHNOLOGY
LED indicators integrated at the front of the heat pump give it a colourful style while providing the most useful technical functionality: instant visualization of the pump's operating status.
Green : target temperature has been reached.
Blue : the pool is being heated.
Red : the heat pump is not in operation.