Product Overview
The Brunswick Sanibel is an American pool table using 2 1/4″ spots and stripes balls, with a 3 piece sectional slate bed, available in 8ft in this specification.
A great addition to any home, the Sanibel comes in Rustic Grey, Rustic Dark Brown and Ocean, all with straight legs. This table also boasts solid wood rails, Brunswick-certified premium slate, and pearlized diamond-shaped sights. An additional dining top matching your finish also available.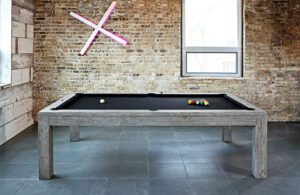 The base frame construction is made from superior engineered wood material with selected veneered hardwoods. The table is assembled using high-torque bolted construction and state-of-the-art heavy gauge steel fastening systems for rock solid performance.
Brunswick Pool Tables are still the manufacturer of choice for pool tournaments the world over for their outstanding quality and world-renown heritage. Have a look at the set up for the Japan Cup pool tournament to see an astonishing 16 Brunswick Gold Crown VI Pool Tables being assembled in preparation for the event.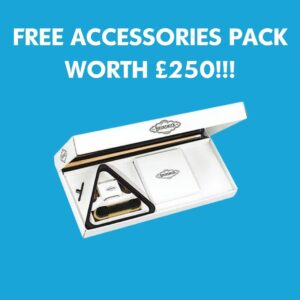 Get ready to play as soon as your table arrives with this free accessory pack worth over £250. It includes a set of Spots and Stripes Billiards balls, four 58" contender two-piece cues, a two-piece plastic bridge head and stick, 8 ball triangle rack, a plastic table brush and 12 cubes of chalk. All you have to do is buy this table and we'll provide all of this free in a stylish Brunswick Contender box with delivery.
Upgrade to the Centennial Accessory Pack:
If you wish you can upgrade even further to the top of the range Centennial Accessory Pack. This pack contains the following components: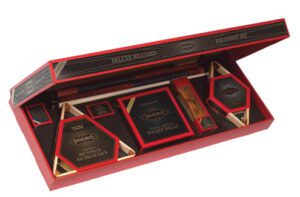 Centennial® pocket balls, the standard of excellence in the billiards industry, and made with premium grade phenolic resin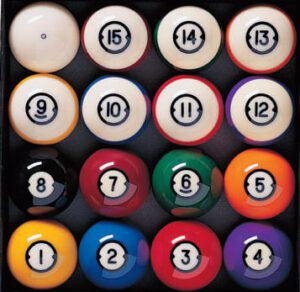 Four Centennial® cues, a high-quality two-piece cue, great for any level of play

Two-piece short cue
Two-piece bridge stick
Brass bridge head
Big Break® rack
Nine-ball rack
Table brush
Twelve pieces of chalk
Official BCA Rule Book

Slate thickness:

The table has a 1″ thick sectional slate, with a 3/4″ frame liner for sound deadening.

Pocket Type:

Drop pocket. This is the traditional type of pocket used on American pool tables, where the ball sits in the "cup" once it has been pocketed. Each cup will hold between 3 and 5 balls at a time.

Ball return is not available on this model.

Dining Tops

Make the most of your table, allowing it to be used as both a pool table and a dining table with these dining tops that lay over the playing surface of your pool table. This dining top comes in multiple segments for ease of conversion, are all cushioned to protect the table's top-rail and come matching your table's chosen finish. Select whether you want to include dining tops with your table using the drop-down menus.


We offer a choice of cloths, in a huge range of colours.

Simonis 860 cloth is recommended for use in American Pool. It has no nap which means that it has no "furry" surface, therefore it plays much faster than an English Pool cloth which has a napped playing surface. 860 cloth is made from combed worsted wool, with a high thread count, higher wool content and reduced ball burn.

Simonis cloth is the choice of over 90% of the World's pool tournaments, including the Mosconi Cup, World Cup of Pool, World Pool Masters, and World Pool Championships.

Cloth Upgrade Options:

Exclusive to the Brunswick range of pool tables, Your Brunswick pool table is available to be fitted with Brunswick's own American pool cloth from their Centennial range. These cloths are of the highest quality, come in a range of luxurious colours, and are manufactured by Brunswick themselves.

Brunswick Centennial – with DuPont™ Teflon® fabric protector:

          

•    Centennial Cloth is woven with 100% luxurious Merino wool weave imbedded with DuPont™ Teflon® fabric protector* that safeguards the cloth and table from occasional spills.
•    At 23 oz. of fabric per sq. yard vs. 19 oz. per sq. yard from competitive brands, Centennial Cloth lasts up to 60% longer than competitive wool cloth.
•    Centennial Cloth is built to withstand the rigorous use of both the beginning and advanced pool player.
•    Optimal speed-of-play is achieved through an exclusive 5-step finishing process, including vacuum decating. This process allows our cloth to be thicker while providing both durability and speed.
•    Endorsed by BCA Hall of Fame Member and WPBA Professional Ewa Mataya Laurance.
 Don't forget your new table also comes with Free Delivery and Installation (worth £500)
For more details see our Showroom page
Free Accessory Pack (worth £150):
Don't forget your new shuffleboard also comes with Free Delivery and Installation (worth £500) – see below for full details.
Bowling Pins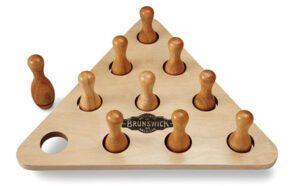 Play a second game with your new shuffleboard table with a set of Brunswick Shuffleboard Bowling Pins. Set up this set of 10 wooden pins at the end of your shuffleboard using the included rack and knock down as many pins as possible with your four weights.
Made from solid rubberwood.
Add these to your purchase using the drop-down menus at the top of the page.
Shuffleboard Cover
Protect your playing surface with durable protective cover. Designed to fit over the entire upper part of the cabinet.
Not compatible when additional accessories such as lights or electronic scoreboard are attached.
OPTIONS
Scoreboard: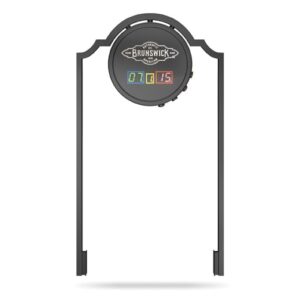 You can add an electronic scoreboard to this shuffleboard. Please select the correct option from the drop-down menus at the top of the screen.
Shuffleboard Lights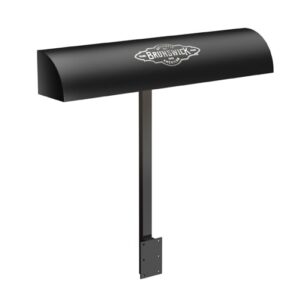 You can add a set of 2 lights that can be fixed to the cabinet to illuminate the playing surface. These lights come in black coloured shades with the Brunswick logo in white. Please select your preferred option using the drop-down menus at the top of the screen.
Lifetime Warranty:
Every shuffleboard Brunswick build is backed by a lifetime warranty on the playing surface and one year warranty for the cabinet – a testament to the exceptional design and workmanship the Brunswick name represents. This also helps us provide the best resale value in the industry. So whether you own your table for a season or a lifetime, you'll never regret buying a Brunswick.
Availability:
We usually hold stock of Brunswick shuffleboards. If it is required to be made to order it can take from 6 to 13 weeks to be manufactured and shipped from the USA. Once it has arrived to our warehouse, our delivery team will contact you to arrange a delivery date.
If you would like to check the availability of your choice of shuffleboard, please call our expert team on 01522 300737 and we will be happy to advise on timeframes.
Please note: all such items are handmade by craftsmen, therefore all dates for availability are approximations.
Optional Brunswick Accessories:
Matching Cue Rack
To complete the look, and to match your table, look into the sublime Brunswick Sanibel Cue Rack. This beautiful accessory is built specifically to match the finish and style of the Brunswick Sanibel pool table.
The Sanibel Cue Rack is a wall-mounted cue rack that can hold up to 8 pool cues.
The Brunswick Sanibel Cue Rack can be purchased with the Sanibel American Pool Table by adding it using the side drop-down menu. It will be supplied in a finish matching your table.
Free Delivery and Installation (worth £500):
Your new Pool Table will be professionally handled by one of our fully insured specialist two man delivery teams. It will be placed in a ground floor room of your choice, and all packaging removed.
Our team will professionally level the table and show you how to do so yourself, as this is something you will need to do throughout the life of your Pool Table. They will be able to answer any questions about the care and use of your table to ensure you get the very best from your new purchase. You will be left with a perfectly installed table, ready to play the first frame of many.
Upstairs, downstairs, and other hard to reach locations:
It is possible to deliver and install the Pool Table to a location with difficult access – loft conversions, basements, upstairs, downstairs, up and down steep slopes etc – but this will be at an extra cost.
 Please call us on 01522 300737 to discuss your exact requirements and we will happily provide you with a quote.
OPTIONS
Table Size: 7′ (2.1 m) / 8′ (2.4 m)
Legs: Unique, Standard
Pockets: Low Profile Drop Pocket
Cloth Colors: 14 options
Finish Options: Rustic Dark Brown, Rustic Grey
UNIQUE FEATURES
Brunswick Certified Premium 1″ Slate
High Performance™ Nut Plate Construction
SuperSpeed® Cushion Rubber
Solid Hardwood Construction
Hand Hammered Rail Sights
Coordinating Wall Rack Sold Separately
MATERIALS
Aprons: Solid Hardwood
Legs: Solid Hardwood
Rails: Solid Hardwood
Base Frame: Solid Hardwood
MEASUREMENTS
Dimensions: 7′ : 90″ x 52″ (228.6 x 132.1 cm) / 8′: 102″ x 58″ (259.08 x 147.32 cm)
Leg Center: 7′: 85″ x 47″ (215.9 x 119.4 cm) / 8′: 97″ x 53″ (246.38 x 134.62 cm)
Weight: 709 lbs (321.6 kg) / 880 lbs (399.16 kg)
Slate Thickness: 1″ (2.5 cm) Framed
Floor to Top of Slate: 30.3″ (76.96 cm)
Floor to Top of Rails: 32″ (81.28 cm)
Play Surface: 7′: 76″ x 38″ (193 x 96.5 cm) / 8′: 88″ x 44″ (223.5 x 111.8 cm)