Product Overview
The Brunswick Sanibel is a fantastic modern, minimalistic design with rustic charm in its finish and aesthetics, achieving the perfect compliment to its pool table counterpart. The table is built in either rustic grey or rustic dark brown finishes and comes in either 12ft or 14ft sizes. The Sanibel provides a gantastic looking piece of rustic furniture, perfect for any home and is sure to be the center of attention in any games or leisure room.
It comes with all the accessories you need to get you having fun as soon as the table is fitted, including four black pucks, four red pucks, a matching wood abacus scorer, a table brush, and shuffleboard wax. Optional scorer and light sets are available.
If you fancy checking out your shuffleboards skills, then pop into our showroom in Sleaford, when you have a chance.
We have a selection of shuffleboards in varying sizes, all set up and ready to play.
For more details see our Showroom page
For more models from this manufacturer, please see our Brunswick Shuffleboards page.
Free Accessory Pack (worth £150):
Don't forget your new shuffleboard also comes with Free Delivery and Installation (worth £500) – see below for full details.
Bowling Pins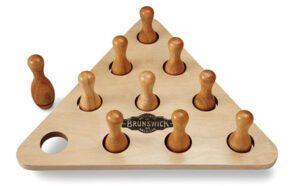 Play a second game with your new shuffleboard table with a set of Brunswick Shuffleboard Bowling Pins. Set up this set of 10 wooden pins at the end of your shuffleboard using the included rack and knock down as many pins as possible with your four weights.
Made from solid rubberwood.
Add these to your purchase using the drop-down menus at the top of the page.
Shuffleboard Cover
Protect your playing surface with durable protective cover. Designed to fit over the entire upper part of the cabinet.
Not compatible when additional accessories such as lights or electronic scoreboard are attached.
OPTIONS
Scoreboard: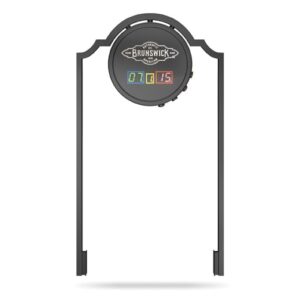 You can add an electronic scoreboard to this shuffleboard. Please select the correct option from the drop-down menus at the top of the screen.
Shuffleboard Lights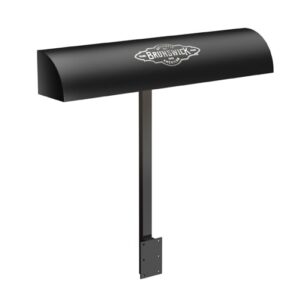 You can add a set of 2 lights that can be fixed to the cabinet to illuminate the playing surface. These lights come in black coloured shades with the Brunswick logo in white. Please select your preferred option using the drop-down menus at the top of the screen.
Lifetime Warranty:
Every shuffleboard Brunswick build is backed by a lifetime warranty on the playing surface and one year warranty for the cabinet – a testament to the exceptional design and workmanship the Brunswick name represents. This also helps us provide the best resale value in the industry. So whether you own your table for a season or a lifetime, you'll never regret buying a Brunswick.
Availability:
We usually hold stock of Brunswick shuffleboards. If it is required to be made to order it can take from 6 to 13 weeks to be manufactured and shipped from the USA. Once it has arrived to our warehouse, our delivery team will contact you to arrange a delivery date.
If you would like to check the availability of your choice of shuffleboard, please call our expert team on 01522 300737 and we will be happy to advise on timeframes.
Please note: all such items are handmade by craftsmen, therefore all dates for availability are approximations.
Free Delivery and Installation (worth £500):
Your new shuffleboard will be professionally handled by one of our fully insured specialist two man delivery teams. It will be placed in a ground floor room of your choice, and all packaging removed.
Our team will professionally level the table and show you how to do so yourself, as this is something you will need to do throughout the life of your Shuffleboard. They will be able to answer any questions about the care and use of your table to ensure you get the very best from your new purchase. You will be left with a perfectly installed table, ready to play the first frame of many.
Upstairs, downstairs, and other hard to reach locations:
It is possible to deliver and install the shuffleboard to a location with difficult access – loft conversions, basements, upstairs, downstairs, up and down steep slopes etc – but this will be at an extra cost.
 Please call us on 01522 300737 to discuss your exact requirements and we will happily provide you with a quote.
     OPTIONS
Shelf: No
Scorer: Yes
Light Set: Set of 2 available
Finish: Rustic Grey or Rustic Dark Brown
Playfield: Two Piece Option available
Available Accessories: Banquet Top / Table Cover / Shuffleboard Bowling Set
UNIQUE FEATURES
Weathered finish showing natural grain and texture
Modern style with clean lines
Climate adjusters
Accessories include: four black weights, four red weights, built-in abacus scoring system, table brush, and shuffleboard wax
MATERIALS
Made of select hardwoods and plywood (cabinet base)
North American maple hardwood playfield finished with a 0.25″ (0.6 cm) polymer resin surface
Cabinet lined with a complimentary color carpet
Playfield protected by a limited lifetime warranty*
MEASUREMENTS
Dimensions 12′: 145.9" x 28.4" x 32.1" (370.6 x 72.1 x 81.5 cm) 14′: 169.9" x 28.4" x 32.1" (431.5 x 72.1 x 81.5 cm)
Size: 12′ (3.66 m) / 14′ (4.27 m)
Weight: 626 lbs† (283.95 kg) / 730 lbs† (331 kg)
Playfield: 12′: 132.5″ x 20″ x 2.5″ (12 ft) (336.55 x 51 x 6.35 cm) 14′: 156.5″ x 20″ x 2.5″ (14 ft) (397.51 x 51 x 6.35 cm)